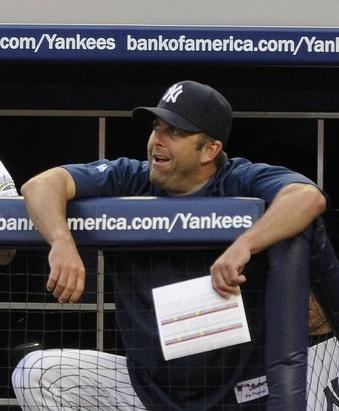 The plan was in place a few years ago. The beloved Don Mattingly was in pupil in the Joe Torre School of Managing while doubling as the team's hitting coach. Once phase two of Mattingly's apprenticeship was put in place – moving him from hitting coach to bench coach – the Yanks needed someone to come in and guide their group of big name hitters.
Enter Kevin Long.
An unheralded player, K-Long spent parts of eight season in the Royals' organization after being a 31st round pick back in 1989, although he never made it to the big leagues. As a corner outfielder he hit just .273-.322-.365 in 2,599 minor league plate appearances, eventually calling it a career in 1996. Long gradually climbed the minor league coaching ranks after his playing days were over, and found himself replacing Mattingly as the Yankees' hitting coach after spending three years with Triple-A Scranton.
While Mattingly didn't take over for Torre, instead bolting with him to LA, Long has remained and transformed what used to be a great offense into a truly outstanding offense. Here's where the 2009 Yankees rank among the 30 clubs in some of the key offense categories:
Runs: 829 (1st)
Hits: 1,432 (1st)
Doubles: 294 (3rd)
Homers: 221 (1st)
AVG: .283 (2nd)
OBP: .362 (1st)
SLG: .480 (1st)
OPS: .842 (1st)
Total Bases: 2,425 (1st)
Walks: 597 (1st)
And don't even try the bandbox defense, because the Yanks are among the league leaders in road offense as well. "But Mike, the Yankees have some of the best hitters in the world, of course the team will have great offensive numbers." Oh yeah, well check out these individual numbers:
Johnny Damon before K-Long: .289-.353-.436
Johnny Damon with K-Long: .286-.364-.452
A-Rod before K-Long: .305-.386-.573
A-Rod with K-Long: .302-.409-.587
Jorge Posada before K-Long: .270-.375-.472
Jorge Posada with K-Long: .307-.393-.515
Those are just three guys, but Long managed to make great hitters even greater. Among other things, he's worked in the offseason with Robbie Cano, got Bobby Abreu to stop stepping in the bucket, helped A-Rod maximize his output following hip surgery, fixed Hideki Matsui's shoulders,  and turned Melky Cabrera into a league average hitter. He's just that damn good.
So spill your guts here folks, and tell us how much you appreciate one of the best hitting coaches in the game.
Photo Credit: Reuters Pictures