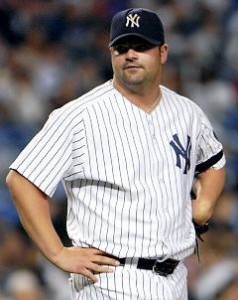 Small sample sizes can be cruel. Just four, four-and-a-half months ago there was a big chunk of Yankee Universe that thought, that knew Brian Bruney was the answer to the Yanks' perpetual 8th inning question. After all, the guy had just rattled off an unreal April: 8 IP, 3 H, 3 R, 2 BB, 12 K. In the middle of the month, he had a stretch where he struck out 12 in just 6.2 IP over seven appearances without allowing a baserunner.
But then Bruney got hurt, as a balky throwing elbow landed him on disabled list. He came back about four weeks later, presumably healthy, and fired a perfect inning against the Orioles in what appeared to be the first attempt at easing him back into that 8th inning role. Next thing you know, Bruney's back on the DL with the same elbow problem because he wasn't truthful with the organization, telling them he felt good when he really didn't. Classic meathead syndrome, the guy thought he could pitch through it and still be a positive contributor to the club.
Four weeks after the setback, Bruney returned, this time for good. Except now the Yankees weren't looking for an 8th inning guy – Phil Hughes took that and ran with it. They didn't even need a 6th or 7th inning guy really, because Al Aceves had been masterful in the middle innings. Bruney was just another guy in the pen, but if he performed like he had earlier in the season, those high leverage late inning opportunities would eventually fall into his lap.
Except Bruney never returned to his April highs, not even close. Since returning from the DL on June 16th, Bruney's allowed 41 baserunners in 20.2 IP, giving up five homers in the process. Opponents are hitting .310-.416-.548 off him in that time, so he's turning everyone into Chase Utley. After a particularly dreadful stretch in July, Bruney didn't allow a run in 8.2 IP from August 7th to the 31st. The problem is that he handed five inherited runners over to whoever relieved him in that time (three of those five were left in scoring position), and somehow none came around to score. Bruney gets no credit for those scoreless frames, he left a mess that someone else had to cleanup.
Bruney hasn't struck out at batter since August 11th, seven appearances and six innings ago. His walks were always offset by his high strikeout rate, which coming into this year sat at exactly 9.0 K/9. The velocity is still there, but he's just not making his pitches these days. He's a liability whenever he enters a game, but the Yankees have such a large lead in the division (99.96542% chance of making the playoffs) late in the season that they can afford to keep running Bruney out there in an effort to get him back on track.
As it stands now, Bruney is no better than on the playoff roster bubble. There's no fewer than three righthanders ahead of him on the relief pitcher depth chart, and there's a distinct possibility he could be left home in October if favor of a long man or an extra lefty reliever. There's really no need for the team to carry seven relievers in October just to stroke Bruney's ego, the Rays left Edwin Jackson home in the ALDS and ALCS last year, and he was far more important to Tampa's team last year than Bruney is to this year's Yankee club.
Furthermore, with a glut of relief options in the majors and minors, Bruney may not have a spot on next year's team. He's out of options and entering his second year of arbitration, and the Yanks may not want to keep a rather expensive, ineffective reliever around when they have kids coming up who at the very least can be equally as unreliable at a fraction of the price. A nontender is always a possibility, but with that kind of power arm you'd think they could get at least something for him, even if it's a Grade-C prospect. His salary could be prohibitive, though.
Of course, Bruney could render those last two paragraphs moot if he turns it around in the next month. We've seen him get hot, and when he's on a roll he can make batters look silly. Right now though, I cringe whenever I see him walk through the bullpen door.
Photo Credit: Keivom, NY Daily News