During the 2009 season, the Yankees have had three separate incidents with veteran umpire Marty Foster. One incident can be written off in the normal course of baseball. Two incidents (especially when they come on back to back days) raises some eyebrows. But three incidents? That might suggest there's something to this. After watching the Yankees for years, and trying diligently to keep up with as many other teams as possible, I can't say I remember anything quite like this between team and umpire. Except with Angel Hernandez, of course. It seems like that guys tries to get on peoples nerves.
The most infamous incident came in early July, in a game against the Toronto Blue Jays. Derek Jeter walked to lead off the bottom of the firs, and then took second on a Ricky Romero balk. He tried to take third, but Rod Barajas's throw had him by a good margin. Sliding head first, Jeter did a little swim move to avoid Scott Rolen's glove. His hand hit the bag before the glove touched him, but Marty Foster punched him out anyway.
When Jeter complained, noting that Rolen did not tag him, Foster allegedly replied, "He didn't have to. The ball beat you." That incensed both Jeter and Joe Girardi, but to no avail. After the game, crew chief John Hirschbeck backed his umpire. Foster's side is that he added "and I had him tagging you." Such ended the incident. It was an easy out for Foster, who could have made up anything to tell Hirschbeck.
There was an incident the day before, though, one I think that many people forget. In the first inning, the Yankees were set up against Brett Cecil. A Jorge Posada single had loaded the bases, and Hideki Matsui strode to the plate. He didn't do much, grounding one between first and second, but Lyle Overbay misplayed it. Mark Teixeira barreled around third and tried to score. Technically he did. The throw beat him, but catcher Raul Chavez tagged Tex with his glove while the ball was in his hand.
This couldn't be more clear. I saw it when the play happened, and it was even clearer on replay. Yet Foster, calling balls and strikes that game, punched out Teixeira. How that happens I just don't know. How the Yankees didn't stampede onto the field to argue the call I understand even less. Teixeira was very clearly safe. This would fit completely with Foster's statement the next day, that the throw only needs to beat a runner, tag or no tag.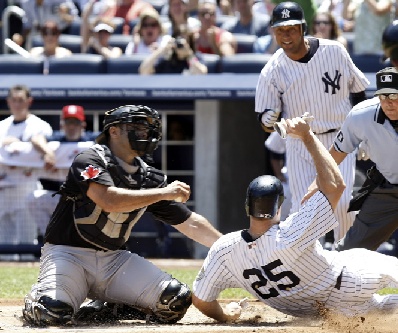 Photo: William Perlman – The Star-Ledger
Yesterday's incident is still fresh in our minds, so I need not repeat it. The pitch was outside. The replay showed it, and pitch f/x showed it. One can argue that it's okay as long as Foster was calling that spot consistently, but it didn't appear that any part of the zone was consistent yesterday. Even so, count me against the "as long as it's consistent" crowd. The umpire is right on top of the plate. At least on inside-outside calls, he should be able to get it right. Not by some definition of his own. But by the definition that the strike zone is the width of home plate. If we're not going to have a standard strike zone for every umpire, why even define it in the rule book?
This isn't to say that Marty Foster is biased against the Yankees. It's to say that perhaps MLB should look into these incidents before assigning him any postseason games. They need the very best out there, and after three run-ins with just the Yankees this season, it's pretty clear that Foster shouldn't meet the criteria. He was 100 percent, objectively wrong on the Teixeira call. Replay showed he was wrong on the Jeter play, though we can chalk that up to a poor eye for detail (hence, no playoffs, Marty).
On the A-Rod play he was wrong, but umpires get away with that kind of stuff all the time. No one will question Foster any further. He'll file his report, and he'll look like the good guy to the umpire's union. But MLB should certainly step in and not allow Foster to umpire the most important games. If we've noticed three bad calls in only the Yankees games he's umpired, imagine how many others he's made throughout the season.