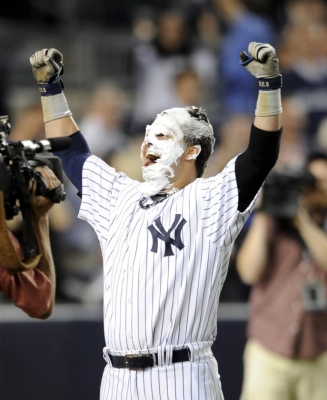 For the second time in two days (and three games), we were treated to my favorite brand of game: the pitcher's duel. From David Price, we might have been able to expect it. He's had his struggles, but is a promising pitcher who has started to come around lately. From Chad Gaudin, the hope was to get five serviceable innings. He provided that and a bit more, and the Yanks took advantage.
It's sometimes tough to write much about pitcher's duels. There were definite turning points of this game, but I'd like to take this one hockey style: three stars. I think they're pretty clear in this case.
Third Star: Alex Rodriguez
Alex was in the right place at the right time in three instances last night, and he took advantage in each. In the top of the first, Carl Crawford skied a pitch to left center, which was just out of Johnny Damon's reach. The speedy Crawford took advantage of the ball's hang time and trotted into third with ease. The Rays had a chance to stake Price to an early lead, and with Longoria and Zobrist due up, they had a good chance to do so.
Longoria hit a sharp grounder which A-Rod fielded cleanly. Crawford was already a good deal off the bag, and A-Rod looked him down before throwing to first. But, judging that he was too far away from the bag, A-Rod did what they teach you in Little League: run right at him and make the runner commit. A-Rod moved toward him, and then iced the play by faking a throw, which tied up Crawford just long enough. A-Rod chased him until he was almost home, then flipped to Posada. This was good strategy by Crawford, since he can outrun Jorge. But Jorge chased diligently, flipping to Jerry Hairston for the putout.
In the top of the sixth, A-Rod came to the plate with runners on first and second with two outs. The Yanks had a 1-0 lead, but insurance runs are always welcome. Price tried to come inside with a 2-2 fastball, but A-Rod jumped on it, smacking it to left. Johnny Damon scored easily, and that put the Yanks up by two. That run came in handy the next inning, when Evan Longoria homered to lead off and cut the lead to one. It would come even more handily when Jason Bartlett homered to tie it.
Finally, Alex made a nice play on a Dioner Navarro grounder in the seventh. With runners on first and second and one out, Brian Bruney got Navarro to hit one on the ground toward third. A-Rod move to his right and was leaning while getting to the ball. He almost certainly could have thrown out the slow Navarro, but instead used his momentum to sprint to third ahead of Ben Zobrist. It wasn't as impressive a play as the other two, but it saved the Yanks from a situation where a Willy Aybar single could have put the Rays ahead.
Second Star: Chad Gaudin
After Gaudin's last two starts, it was tough to expect a lot. But Gaudin stepped up and pitched very well through six innings. He had used just 64 pitches to get through those six innings, and allowed just four hits and walked one. If Girardi had pulled the plug at that point, I doubt anyone would have cared (save for those who think anything Girardi does is moronic; there will always be those types). But with his pitch count so low, Girardi decided to push his luck.
Gaudin fell apart in the seventh, allowing a leadoff homer followed by a single and a walk, putting the tying run in scoring position with none out. That would be it for him, but even with the less than stellar performance in the seventh, Gaudin left with a respectable line: 6 IP, 6 H, 1 R, 1 ER, 2 BB, 6 K. He deserved the W in this one. Thankfully, that stat means nothing in the grand scheme of things (as in, pitcher wins).
First Star: Nick Swisher
Had this game ended 2-1, I was leaning towards Swisher as third star. His homer in the first was pretty key, considering how well Price was pitching. But A-Rod had those three nice plays, and it's hard to downplay the start by Gaudin. But then Phil Hughes allowed a leadoff homer to Jason Bartlett, tying the score. The Yanks were looking for another walk-off at that point, and Swisher delivered with his second bomb of the night.
Entering last night's game, Swisher had 24 homers, 21 of which were on the road. In other words, 2/5 of Swisher's home run total at Yankee Stadium came in last night's game. Given that, he was the most unlikely hero. Maybe this breaks his curse of not being able to hit bombs at home. If the guy had hit half as many homers at home as he has on the road, he'd have over 30 bombs right now. There are four guys in the AL tied for third with 31 homers, and two tied for seventh with 30, just for some context.
The win puts the Yanks magic number down to a Munsonian 15. It also puts them at a .750 win percentage since the All-Star Break (hat tip Rebecca). It's a pretty wild ride. I'm just glad we can all enjoy it together. Yanks go for the sweep tomorrow. Joba Chamberlain tries, once again, to redeem himself. Behemoth Jeff Niemann goes for the Rays.
Photo credit: David Pokress