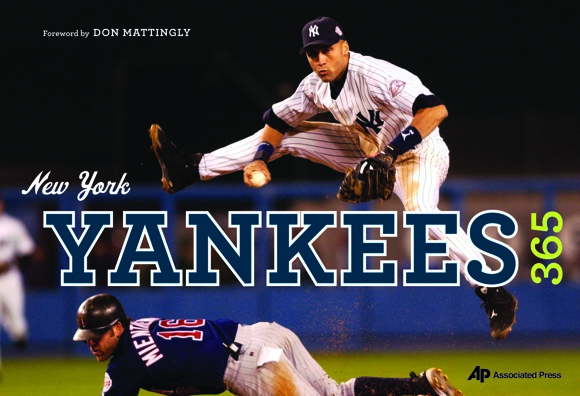 What would your photo album look like if you had front-row seats to every Yankee game for decades on end? It would probably be a thing of beauty with vivid photographs of seminal moments in Yankee history.
Well, although you and I do not enjoy this luxury in life, the Associated Press has. Photographers from the AP have been at every Yankee game for countless years. Now, to coincide with the first playoff series at the New Yankee Stadium, the AP is making 365 of these photographs available in a new book. The book, entitled New York Yankees 365, is on sale now, and it truly is a marvelous photo retrospective.
Ostensibly, the book is arranged as a bound page-a-day calendar. Each photo is a full page with a description and a calendar date on the other. That part of the production I don't understand. The calendar days do not actually correspond to anything portrayed in the pictures, and no one will read and soak in just one photo a day. But that's a minor quibble about a great addition to anyone's Yankee coffee table book collection. From the Babe to Derek, this one's got it all (and you can see some of it in this slideshow).
Tom Curley, president and CEO of the AP, talked about the organization's goals behind the book. "Baseball and The Associated Press grew up together, and no news organization has covered more of the nearly 400,000 professional games that have been played to date," he said in a press release. "Over the course of the last century, the Yankees have come to embody the majesty of the game of baseball. They are a part of Americana. This book is a photographic celebration of the history and heroes the team has created."
Meanwhile, to promote the book, former Yankee pitcher Jim Bouton will be at Borders at 100 Broadway in Lower Manhattan tomorrow afternoon at noon to sign copies. I'm sure he'll talk about Ball Four as well.
To purchase copies of this book and send a few pennies back to RAB, use this link
. And yes, FTC, the AP did send me a review copy. Happy? Meanwhile, here's your post-playoff game open thread. Play by the rules. Have fun.