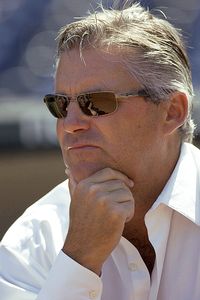 Late last week the Padres let Kevin Towers go, the longest tenured general manager in the game. He took over control of the Friars in the winter of 1995, when Derek Jeter had a grand total of 12 big league hits and Mariano Rivera just two games finished with zero saves. We know that seven or eight teams have already contacted Towers about immediate work, including the Mets, but he said he wants to take his time before making a decision. Would it be smart for Brian Cashman – one of Towers' closest friends in the business – to get in touch the ex-Padres GM about joining his front office braintrust?
Think about it, the way Cashman's front office is currently structured, there's two key principles that stand out:
There's no one that could immediately replace him.
There's no one to challenge his ideas.
The first point is obviously by design and a very smart business move by Cash. Without someone readily available to replace him, his job is that much more secure. The second part can be a problem. Cashman's only assistant GM is Jean Afterman, who's expertise lies in negotiation and contracts and things of that nature. She's not a "baseball person," as some are wont to call it. Mark Newman is the VP of Baseball Ops, but he's basically the farm director. Damon Oppenheimer obviously handles amateur scouting. That's pretty much it in terms of senior executives. In fact, after getting his autonomy in 2006, Cashman pulled a Michael Corleone and axed club officials like Lin Garrett, John Cox, and Chuck Cottier, among others.
The reason the Red Sox have such a successful front office is because of all the voices with input. Beyond Theo Epstein there's assistant GM's Ben Cherington and Jed Hoyer, special assistants Allard Baird (former Royals GM) and David Howard, senior advisor Bill James, and statguy Tom Tippett (officially Director of Baseball Information Services). That's seven guys bouncing ideas off each other. Cashman doesn't have anyone like that, except Stick Michael every once in a while.
Towers' credentials are undeniable. After seven seasons in the Padres farm system as a player, he doubled as pitching coach for Single-A Spokane and a scout in 1989 and 1990. After three years as a scout for the Pirates, he became San Diego's scouting director, then moved up to GM. If there's one thing Towers can consider his specialty, it's pitching. He's proven to be an exceptional evaluator of talent on the mound, and frankly there's 30 clubs out there that can use a guy like that.
Since Towers shouldn't have any trouble finding another GM gig, his close buddy Cash would need to pull off a pretty wicked sell job to bring him aboard. Hell, with any luck, maybe he'd bring Paul DePodesta along with him. I'm of the belief that the more information and the more input the better, so obviously I'd love to see KT join the Yanks front office. What do you think, should they make  run at Towers?
Photo Credit: John R. McCutchen, Union Tribune