The postseason so far has not agreed with Nick Swisher. He's just 3 for 29 with three walks, far from the production he posted during the regular season. He started off the ALCS with two hits in two games, but his last hit came in Game 2. Since then he's 0 for his last 11, including a brutal Game 5 performance. Yet Swisher still has a chance to make everything right.
Just how bad is Swisher hitting right now? In the Yanks breakout seventh inning, he made both the first and last outs. The last one hurt especially. Robinson Cano had just tripled in the go-ahead runs and was standing on third, waiting for Swisher to dunk one into the outfield and extend the lead. Instead, Swisher did what he has done so many times this series: flied out.
In the ninth, down by one, the Yankees mounted a two-out rally, sparked by the Angels' decision to intentionally walk Alex Rodriguez. Matsui coaxed a free pass, and Cano took a breaking ball between the shoulder blades. That set up Swisher in clutchest of clutch situations: ninth inning, bases loaded, two outs, tying run 90 feet away. Swish didn't have to hit a home run. With Brett Gardner standing on second base, all he had to do was dunk one into the outfield and the Yankees would have taken the lead. But as he did in the seventh inning, he failed.
Sometimes you just have to chalk it up to the pitcher. Fuentes is the Angels closer, and he had retired the first two hitters of the inning. The Yankees made a valiant effort, but came up short. Yet in this instance, the failure seems to be squarely on Swisher's shoulders — the pitch was a 91 mph fastball right down the middle. See for yourself (via Brooks):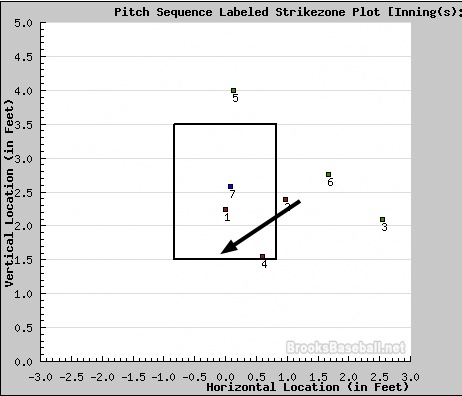 Swisher is simply off his game. He he been even close to his normal rhythm, he might have parked that pitch and given Mo a three-run lead. Even if he's not going perfectly, Swisher should be able to line that one into the shallow outfield and give the Yanks a one-run lead. But Swish popped it up, demonstrating exactly how out of rhythm he is right now.
The beauty of the Yanks' position, though, is that Swisher still has a chance at redemption. If he can put his horrible performances behind him and come up with a big Game 6, all will be forgotten. If he drives in a few runs, or gets on base to set up a big inning, leading to a Yankees win, we'll put the bad memories in the backs of our minds. Yes, Swish had a chance and failed. But, because the Yankees put themselves in an advantageous position, they still have two more chances. Swisher can be a big part of a potential series win.
That's why I'm not too down about last night. No one thought the Yankees would blow out the Angels, so to finish the series in five would have been a gift. Now they get another shot, at home, in Game 6, and Swisher gets another shot at redemption. Last night's loss may have been tough, but there's still plenty of reasons to believe that the Yankees will finish this out. I just hope Swish is a big part of it.