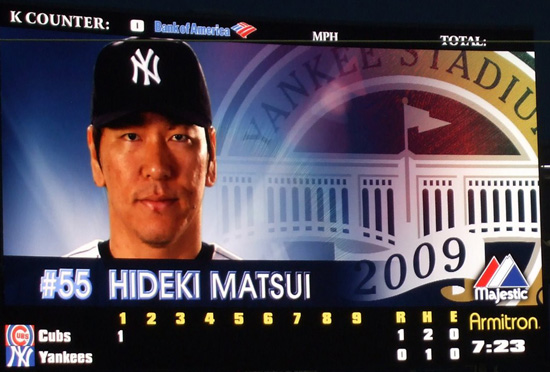 We've been talking a lot about Hideki Matsui over the last few weeks. In the waning days of his most recent Yankee contract, he wowed us all in Game 6 of the World Series and won MVP accolades because of it. Now, the Yankees are faced with a tough choice. Do they let their everyday DH and Japanese superstar walk or do they try to bring him back?
Yesterday, we explored this question when we examined whether we would bring back Johnny Damon or Hideki Matsui if we, as the Yankees seem to be doing, had to pick just one. With a heavy heart, I opted for Johnny Damon but noted that it would not be a mistake to bring back either one. Many commenters noted that Matsui may be had for a lesser price and fewer years than Damon. Those factors could very well be the difference in free agency.
Today, I want to put a different spin on the story. We're going to look at Matsui's perceived economic value to the team and then make a rough attempt to put a run value on Matsui's DH production as compared with the Yanks' willingness to use the DH in 2010 as a rotating rest spot for their veterans. The numbers are rough, but the conclusion is sound: The Yankees would be making a mistake if they opt against employing a true DH.
But first, the economics of Hideki Matsui. As we know, Matsui's World Series MVP award set off a merchandising frenzy. Two days after the Fall Classic ended, Matsui memorabilia was in extremely high demand, and Godzilla's popularity has grown in the ensuing two weeks. According to NPB Tracker, Matsui is now on pace to be as popular as Ichiro this off-season. He has received eight offers — three from preexisting sponsors and five from new ones — to appear in ads, and Patrick Newman estimates that Matsui could make $10 million this off-season. He adds:
Media demand has also rocketed for Matsui, as he has received an estimated 100 requests for television and event appearances in his home country. Even though his home for next season has yet to be determined, it's not an understatement to say his new team (if the Yankees does not re-sign him) will have an opportunity to develop a big presence in the Land of the Rising Sun.

That opportunity sets Matsui apart from the rest of the free agent pool, in some regards. The Japanese-language signage we've been seeing in Yankee Stadium during Matsui's tenure with the Yankees is sure to follow him wherever he goes. Every news program in Japan will show highlights from Matsui's game, so a well-timed advertisement behind the plate will reach millions of Japanese homes on a nightly basis. With this comes a revenue opportunity that teams won't get with, say, Jim Thome.
An article published today in Japanese alleged that the Yankees stand to lose at least $15 million if Matsui heads elsewhere. That is a significant economic impact, and one the team can't just ignore. Considering that Matsui made $13 million in 2009 and shouldn't earn that much again, he would basically pay for himself. Money, in other words, is not the issue.
With that in mind, what about his on-field value? As a DH, Matsui was among the best. His 32.6 VORP total placed him third among DHs and a good 12 VORP points — or approximately one win above replacement level — better than Jim Thome. I also attempted to calculate his relative value to the Yankees' lineup using some MLVr figures.
MLVr — a rate estimation of marginal lineup value — calculates, according to Baseball Prospectus, the "additional number of runs a given player will contribute to a lineup that otherwise consists of average offensive performers." Matsui's MLVr in 2009 was 0.164 in 8.2 percent of the team's plate appearances. By calculating the weighted MLVr total for the Yanks' lineup and then multiplying it by nine — the number of spots in the lineup — we come up with a total that says the Yanks should have scored nearly 194 more runs than league average.
And this point, I have to stop to address that figure. In reality, the Yankees scored 134 more runs than the average AL team and 168 more than the Major League average. This is an inherent problem with MLVr, and Keith Woolner addressed it here four years ago. It is on the high side, but bear with me.
With that in mind, I made a few assumptions that won't hold true. First, I held everyone's production steady from 2009 to 2010 as well as their playing time. It's unlikely to see the same level of offensive production from many of the aging Yankees, and the entire lineup should fall back from its lofty heights. That's just a caveat.
Then, I removed Hideki Matsui from the equation and redistributed his playing time among Francisco Cervelli, Brett Gardner, Ramiro Peña and Jerry Hairston, Jr. With these players in the lineup and taking over Matsui's plate appearance, the team's offensive output based on MLVr declined to approximately 174 runs above average. No doubt this would still be a potent offensive team, but removing Matsui's bat from the equation and replacing him with nothing could cost the Yanks 20 runs or nearly two wins.
Now, I recognize this is some of the more in-depth mathematical analysis than we usually employ around here, but the point is one the Yanks should take to heart. Hideki Matsui played a big role in the Yanks' lineup this year, and they can't just eschew a true DH to rest regulars while replacing Matsui's at-bats with the cast of characters they employ off the bench. Matsui has an economic value for the team and a win value as well. Perhaps, then, the Yanks should indeed bring him back for 2010.