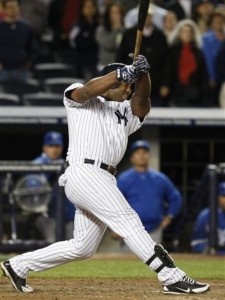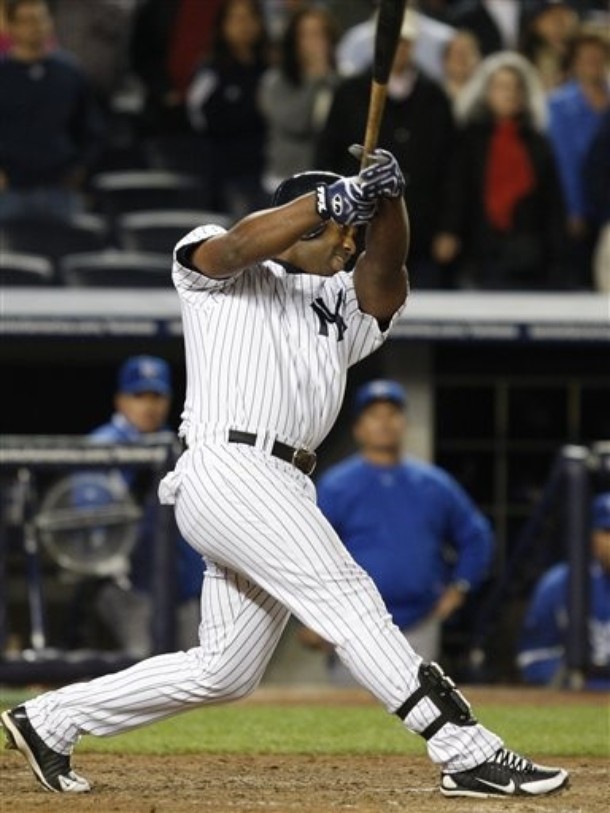 The Yankees have three main holes to fill this offseason: leftfield, designated hitter, and number three starter. Sure, they can – and probably will – look to upgrade some other positions as well, but the team is generally in good shape there. The Bombers seem pretty intent on bringing Johnny Damon back to play left, and I think everyone believes the Andy Pettitte situation will work itself out and solidify the rotation.
That leaves DH as the biggest question mark. It'll be tough to replace Hideki Matsui's 2009 production, even if they bring Godzilla himself back. The popular thought is that the Yanks can use the DH spot to rest Alex Rodriguez, Johnny Damon, Derek Jeter, Jorge Posada, etc. on a rotating basis, but I can't see the team actually going through with that. If they did, that means more at-bats for the Ramiro Penas and Brett Gardners and Frankie Cervellis of the world, and that's not a formula that will win the cut-throat AL East.
There are always more DH types available than DH spots open, so the Yanks certainly have options. However, the team is said to be looking to scale back the payroll a bit, and if they can't retain Matsui on favorable terms, the team might be better off filling the DH spot from within rather than dropping seven figures on a guy in the decline phase of his career. I'm not talking about that silly rotating DH thing when I say filling the spot from within, I'm talking about Juan Miranda.
The Yanks signed Miranda back in 2006 after he defected from Cuba and gained citizenship in the Dominican. He signed a four year Major League contract worth $2M, and the idea was that he'd take over first base on an everyday basis near the end of Jason Giambi's tenure. After splitting 2007 between High-A Tampa and Double-A Trenton, Miranda's spent the past two seasons with Triple-A Scranton. In 2008 he hit .287-.384-.449 with 12 homers, and his .371 wOBA ranked 14th in the league (min. 400 plate appearances). One problem was that Miranda couldn't hit lefties, like at all. In 125 PA against southpaws, he hit just .200-.264-.287 with a grand total of six extra base hits. The second problem is that the Yanks brought in Mark Teixeira in the offseason, putting Miranda in baseball purgatory.
Sent back to Triple-A in 2009 because there was no spot on the big league roster for him, Miranda improved in almost every way. He hit for a higher average (.290) and more power (.498 SLG, IsoP jumped from .163 to .208) in his second stint in the International League, but most importantly, Miranda improved considerably against lefthanders. In 169 PA against southpaws, he hit .291-.367-.507 with 18 extra base hits. It's an amazing turn around in just one year, but you have to be a little careful because it's not a huge sample and it could very easily be a fluke. For what it's worth, he was pretty bad against lefties in 2007 (.216-.293-.371, 12 XBH in 133 PA).
Even though he used his three option years in 2007-2009, Miranda qualifies for a fourth option because he still hasn't played in his fifth pro season. Brian Cashman confirmed it. That means the Yanks could easily stash him away in Triple-A for a third straight year if they so choose, there won't be any consequence. That also gives them some flexibility, because if Miranda starts the year in bigs but needs to be demoted because he isn't performing, they can do it without worrying about losing him on waivers.
Not that the sample size is meaningful (23 PA), but Miranda's actually hit big league pitching pretty well: .368-.435-.579. He collected a walk-off single off old buddy Kyle Farnsworth on Sept. 29th of this year, then three days later he took Dale Thayer way deep (someone he's surely faced numerous times in Triple-A over the last two years) for his first career homer. In limited action, Miranda's certainly been productive at the Major League level.
Using the wonderful MLE Calculator, we can see that Miranda's Triple-A batting line this year would have translated to .249-.318-.412 with 15 homers in the big leagues, though I don't think the MLEc has been updated to reflect the homer happy New Yankee Stadium yet. For the sake of context, that's basically what Aaron Rowand hit this year. The same Aaron Rowand whose .323 wOBA ranked 68th among all outfielders with at least 400 PA in 2009. Need more context? Melky Cabrera was 63rd with a .331 wOBA. So yeah, it's not very good.
Of course that's just one look at it. Part of me is curious to see what Miranda could do with a full season of at-bats in the big leagues, but at the same time I don't think the Yanks can afford to experiment at such a crucial offensive position. I don't think his massive improvement against lefties is sustainable, nor do I think he's as bad against them as he was in 2008. In reality, he's probably somewhere in the middle, which means the Yanks would need to pair him with a righthanded caddy (tying up another roster spot) for all the lefty starters in the division (Lester, Price, Matusz, Cecil, Romero).
So, getting back to the original question about Miranda possibly being the full-time DH in 2010, I'm going to say no. Not for a team trying to win a championship. Lefty hitting first base/DH types that have historically struggled against lefthanders aren't exactly a rare commodity, and given the Yanks' current roster construction and needs, Miranda doesn't really have a place. He's a better fit for a rebuilding team or an NL club that can live with below average defense at first or needs a bat off the bench. With all due respect to Mr. Miranda, I hope the Yankees look elsewhere for a DH should Matsui move on.
Photo Credit: Kathy Willens, AP