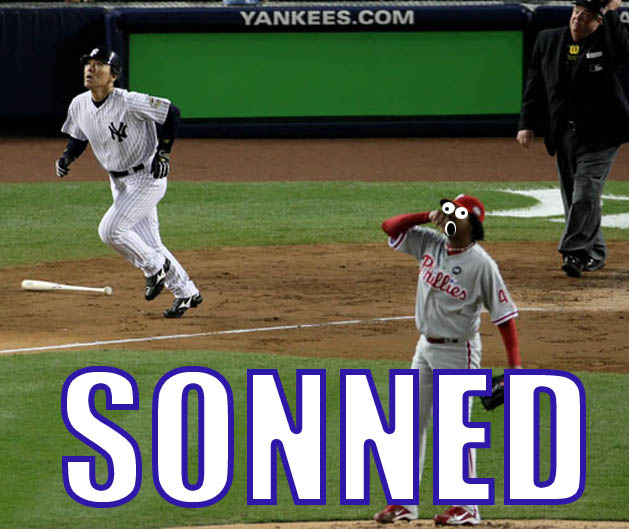 For seven seasons, Hideki Matsui has just always been there. He arrived in New York in 2003 at the age of 29 and was set to be a solution to the Yanks' inability to find a steady left fielder, and now with a World Series MVP unders his belt, Matsui has been every bit as good a hitter as advertised.
In ten seasons in Japan, Matsui was a beast. He made his NPB debut at age 19 and amassed a career line of .304/.413/.582 with 245 home runs in 1268 games. In the states, he has played in 916 games and has hit .292/.370/.482 with 140 home runs. As age sapped him of the strength in his knees, his power has declined a bit, but by the end of a healthy 2009, Matsui had reemerged as one of the go-to clutch hitters in the Yankees' lineup.
This week, Matsui has been the man about town. He appeared on David Letterman last night, carrying in the World Series trophy, and Japanese restaurant import Go! Go! Curry on West 38th St. has been celebrating their fellow countryman this week as well.
My two favorite stories about Matsui this week came from The Times. Jack Curry talked about Hideki's World Series legacy. Matsui came to the Bronx to win a World Series, reached the Classic in his first year in pinstripes and did not make it back until potentially his last season with the Yanks. Curry notes the symmetry:
For Matsui, the game bookended his performance against Martinez in his first season in the 2003 American League Championship Series. Matsui belted a run-scoring double off Martinez as the Yankees rallied to beat the Red Sox, 6-5, on Aaron Boone's homer.

After Martinez walked Alex Rodriguez on four pitches to begin the second, his pace slowed against Matsui. After Matsui fouled off a 3-2 changeup, Martinez tossed a fastball. It was an 89-mile-per-hour pitch, which is about as robust a fastball as Martinez can muster these days, and Matsui drilled into the second deck in right field for a two-run homer.

Matsui said he loved New York and hoped that he gets to stay. In Matsui's first season, he proved that he was comfortable on baseball's biggest stage. In what might have been Matsui's final game with the Yankees, he showed that he can still perform professionally and exceptionally.
And then there is Hiroko Tabuchi's report from Japan where the country has been celebrating Godzilla all week. Newspapers throughout the island nation proclaimed it the year of Matsui, and Japanese baseball fans understand the impact of Hideki's heroics.
"For this baseball-loving nation," wrote Tabuchi, "Matsui's performance at the World Series on Wednesday — hitting a home run, tying a World Series record with six runs batted in and being named the most valuable player — sent a clear message. It put a Japanese player and the Japanese game on the American baseball map more firmly than any compatriot's performance did."
Today, Patrick Newman reported that Matsui will not be returning to Japan as had been previously rumored. Instead, the left-handed slugger will look to stay in the states, and if the Yankees want him for another year, I will welcome Number 55 back with open arms.
(image via tsjc)