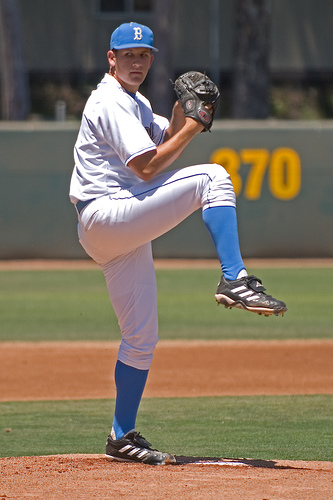 Gavin Brooks | LHP
Background
Brooks grew up in Vista, California, which is pretty much halfway between Anaheim and San Diego. He attended Rancho Buena Vista High School, where he enjoyed not only a decorated baseball career, but a successful basketball career as well. Brooks took home a whole bunch of hardware with the Longhorns, so it's easiest to recap this bullet-point style:
Three-year varsity letterwinner
2003 Rancho Buena Vista MVP
2005 Rancho Buena Vista Most Outstanding Pitcher
2005 Aflac All-American
2005 All-Avocado League honors
2006 Rancho Buena Vista Male Athlete of the Year
2006 San Diego Union-Tribune All-Academic Team
Heading into his senior season, Brooks had put himself in position to be picked in the first two rounds of the 2006 draft, however his stock took a hit when he had surgery to repair a very small tear in his rotator cuff the summer after his junior season. He threw only eight innings as a senior because of the injury, instead doing his damage with the bat (.375 AVG and .573 OBP). Because of the shoulder problem, Baseball America ranked Brooks just the 64th best prospect in the state heading into the draft. With a very strong commitment to UCLA and Scott Boras serving as his adviser, Brooks went undrafted.
In his first season on campus, Brooks proved the shoulder injury was behind him by making 18 starts and setting a school freshman record with 110.2 IP. His 98 strikeouts were also a freshman record, and he walked just 30 batters. Brooks finished the season with three consecutive complete games, striking out 12 while allowing just two runs in eight innings against Cal State Fullerton in the Super Regionals. Unfortunately, the Bruins' offense didn't do him any favors, and UCLA was eliminated thanks to a 2-1 loss.
Brooks was expected to be a rotation stalwart as a sophomore, but he struggled in 14 starts, walking 53 batters against 62 strikeouts in just 71 IP. Despite his struggles, Brooks was named an All-Pac-10 Team honorable mention. He also earned second team Pac-10 All-Academic honors. For the second straight summer, Brooks pitched for the Chatham A's of the prestigious Cape Code League.
A question mark coming into his junior year, Brooks made just one start before volunteering to move to the bullpen because the team suffered some crushing losses in the late innings. He made a team high 24 appearances, and his eight saves were the most by a UCLA pitcher since 1997. For the second straight year, Brooks earned an All-Pac-10 Team honorable mention, as well as a spot on the Pac-10 All-Academic second team. He again struggled with his control, posting a 36-20 K/BB ratio in 36.1 IP.
Baseball America ranked Brooks the 52nd best prospect in the state of California for the 2009 Draft, and there was a chance he may have returned to UCLA for his senior year if he wasn't drafted high enough. The Yankees selected Brooks with their 9th round pick, #285 overall, and he signed quickly for an above slot $125,000 bonus.
Pro Debut
The Yankees assigned Brooks to Short Season Staten Island after signing, where he served as one of manager Josh Paul's most trusted – and most used – relievers. His 30 appearances were fourth most in the NY-Penn League (behind three of his teammates), and his 0.62 ERA was second lowest among pitchers with at least 40 IP. Brooks allowed just 27 hits in 43.1 IP, putting up a 48-24 K/BB ratio with a 3.00 GB/FB ratio.
Scouting Report
Shoulder surgery has sapped some of Brooks' pure velocity, but he can still dial it up to the mid-90's on occasion. He generally sits around 91-92. Brooks has the ability to start because his best pitch a sinking changeup that neutralizes righthanders; he had a reverse split with Staten Island and generally in college as well. His third pitch is a breaking ball that varies between a slider and a curveball depending on the day; it's not consistent at all.
Brooks has a relatively free and easy delivery, though his arm action is long in the back and hinders his command. He walked 4.25 batters per nine innings in college, and 4.98 with Staten Island. On the bright side, Brooks walked just seven batters in his final 15 outings of the season (23.2 IP), though it's something he'll have to continue to work at. The shoulder surgery is far enough in the past that it's safe to say he's recovered from it, and otherwise he hasn't dealt with any arm issues.
Here's a clip of Brooks pitching in relief for UCLA this spring, and another of him with Staten Island.
2010 Outlook
I'm not sure what the Yanks have in store for Brooks next year. They could opt to give him another shot as a starter, or they could look to move him quickly as a power armed lefty reliever. Regardless of how they use him, a Pac-10 veteran like Brooks is more than prepared for the High-A Florida State League.
My Take
I loved the pick. I've been a big Gavin Brooks fan since he came out of high school, and even though he struggled at UCLA and moved to the bullpen, hard-throwing lefthanders are hard to come by. Because he has such a good change and handles righties, he projects to be more than just your garden variety lefty specialist. The Yanks have shown the ability to find quality relievers in the later rounds (David Robertson, Phil Coke, Mike Dunn), and Brooks has a chance to continue that trend.
Photo Credit: Flickr user mark6mauno