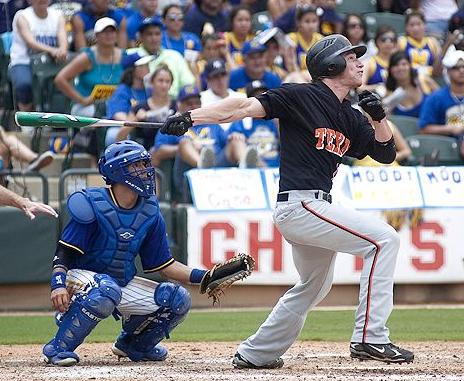 Zachary "Slade" Heathcott | OF
Background
A hardcore Texan, Heathcott attended Texas High School in Texarkana, which is right on the Texas-Arkansas border. In addition to playing football, he starred both on the mound and in the outfield for the Tigers. Heathcott was named First Team All-District as both a sophomore and junior, and also took home MVP honors of the WSSSA World Series as a sophomore. He hit .456 with a 1.98 ERA as a freshman, .489 with a 1.89 as a sophomore, and .530 with a 1.23 as a junior.
Limited mostly to DH duties as a senior because of a torn ACL and a jammed throwing shoulder, Heathcott hit a staggering .472-.523-1.097 in his final season of high school. After missing the first playoff game because of academic issues, Heathcott led Texas High to the state championship last June by picking up the save in the Title Game, the first time he pitched since tearing his ACL. Committed to Louisiana State, last year's NCAA baseball champs, Heathcott was considered signable if taken early enough in the 2009 Draft.
Baseball America ranked Heathcott the 10th best prospect in Texas and the 72nd best prospect overall just before the draft. Keith Law ranked him 51st overall. Regardless, the Yankees loved Heathcott's tools and selected him with their first round pick, #29 overall. It was the compensation pick they received for failing to sign first rounder Gerrit Cole in 2008. The team announced that they signed Heathcott to a $2.2M bonus on the August 17th signing deadline, double the estimated slot recommendation of $1.1M, and equivalent to 7th overall pick money.
Pro Debut
After signing, the Yankees assigned Heathcott to their rookie level Gulf Coast League affiliate. He appeared in just three games, going 1-for-10 with a walk and two strikeouts. He played center field twice, serving as the designated hitter in the other. Heathcott also took part in fall instructional league in October.
Scouting Report
The term "five-tool prospect" gets thrown around a bit too much, but Heathcott legitimately has that kind of ability. He's an outstanding athlete with above average speed, and his arm is very strong and accurate, what you'd expect from an ex-pitcher. Already able to cover large swaths of ground in the outfield, Heathcott does need to improve his reads and quicken his first step. He's a true centerfielder, and there are no concerns that he'll outgrow the position anytime soon. At worst, his arm would play just fine in right.
At the plate, Heathcott has good bat speed but his swing needs to be ironed out to produce consistent, hard contact. He'll get away with it in the low minors because of his athletic ability, but it's something to watch out for down the road.  At 6′-1″ and 196 lbs, Heathcott has thick, strong build that should allow him to hit for average power down the road. His speed also works well on the bases. As cliche as it sounds, Heathcott is a true grinder. He plays all out all the time, sometimes to his detriment (the jammed shoulder he suffered as a senior came when he dove for a ball), so he's sure to be a fan favorite.
There are conflicting reports about Heathcott's upbringing, leading to questions about his character. In this in this interview at NoMaas, Slade confirmed that he hasn't lived with his parents for two years because of  "things that happened that [he has] no control over." Previous rumors indicated that both of Heathcott's parents were out of his life due to drug related issues, however that information remains unconfirmed. Trouble at home would lead to questions about his ability to discern right from wrong, no matter how fair or unfair it may be.
You can see Heathcott's scouting video here.
2010 Outlook
Unlike pitchers, the Yankees aren't shy about sending high school position players to full season ball in their first full professional season. Heathcott figures to start the 2010 season as the every day centerfielder for Low-A Charleston, and is likely to stay there the entire season.
My Take
After hearing that the Yanks had a hard budget for the first time in years, I was worried that they would target a low ceiling, high probability college player with their first pick. Heathcott is anything but that, so I approve. I will, however, say that I think they overpaid him by quite a bit, he's just not the kind of talent that warrants 7th overall pick money. Heathcott has the potential to grow into an exciting power-speed combo in centerfield, and he's the most dynamic position player prospect the Yankees have drafted since Austin Jackson and CJ Henry in 2005.
Photo Credit: Evan Lewis, Texarkana Gazette