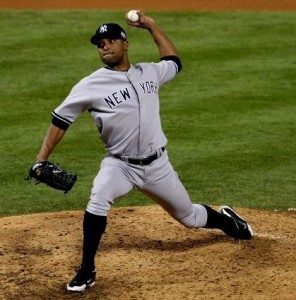 When the playoffs started, the question wasn't whether Damaso Marte would be the first or second lefty reliever out of the bullpen, it was will he even be on the playoff roster? Three-plus weeks later, he's morphed from an "only in an emergency" option to a bonafide weapon out of Joe Girardi's bullpen.
It's no secret that Marte's Yankee career started off in inauspicious fashion. After being acquired along with Xavier Nady at the 2008 trade deadline, Marte put 24 men on base in just 18.1 IP to close out the year, though his 3.02 FIP and 3.71 tRA disagreed with his 5.40 ERA. Then, in a somewhat surprising move, the Yankees declined Marte's $6M option for 2009 only to re-sign him to a three-year, $12MM deal a week later. It was surprising because the team took on much more risk, rather than being able to walk away after a year if things didn't go as planned. And they didn't go as planned, at least as first.
Marte returned from the World Baseball Classic with shoulder inflammation, and then proceeded to serve up three homers and allow nine runs in his first seven outings of the season, covering just 5.1 IP. His velocity was down, and he ended up on the DL in early May with a sore shoulder. With CC Sabathia, AJ Burnett, Mark Teixeira, and Nick Swisher performing so well, Marte certainly looked like the token dud offseason move.
After getting cleared by Dr. Andrews, Marte's rehab experience started way down with the rookie level Gulf Coast League Yankees. He ultimately made 13 rehab appearances, 11 with Triple-A Scranton, which is an unusually high number. It seemed like the team was in no rush to get him back up to the big leagues, and sure enough when he did return in late August, he was used sparingly in low-leverage spots. His season numbers were pretty awful (9.45 ERA, 5.65 FIP, 5.30 tRA), but he held lefties to a .120-.214-.280 batting line and got his postseason spot because of the presence of Joe Mauer and Jason Kubel in the middle of Minnesota's lineup.
Since the playoffs started, not only has Marte usurped Phil Coke as the primary lefthander out of the bullpen, he's also jumped ahead of several righthanders in the setup crew pecking order. After allowing a pair of singles to Mauer and Kubel to start his 2009 postseason, Marte has retired the last 10 batters he's faced, three on strikeouts thanks to a ridiculous 79.4% strike rate (yes, I know it's in a small sample). He's completely neutralized NLCS MVP Ryan Howard (0-for-3 with a strikeout in the World Series, 0-for-3 with three strikeouts career coming into the series), and pretty much everyone else that stood in the box.
Yankee fans crushed Marte all season long, saying he couldn't handle the pressure of playing in New York, the usual shtick like that. A few of us stood by him, noting that his long and impressive track record indicated that he's not just a good reliever, but one of the better and more consistent relievers of the century. Judging players on small sample sizes, especially when they were dealing with an injury, is never a good idea, and now Marte is rewarding Girardi's faith by getting crucial outs in the late innings of October November. Remember, he's the only reliever in the bullpen aside from Mariano Rivera with World Series experience.
Considering how recent postseason performance can inflate salaries on the open market, the Yankees may have actually saved themselves some money by re-signing Marte semi-long-term last offseason instead of just picking up his option and letting him hit the market again this winter. Funny how these things work out.
Photo Credit: Nick Laham, Getty Images