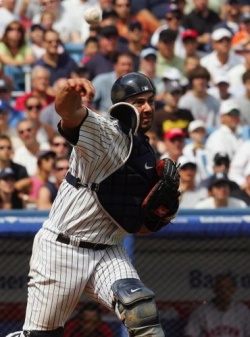 Catchers tend not to age well. Baseball players typically start to decline physically in their early- to mid-thirties, but for catchers, who spend seven months a year squatting, it can come on earlier and more dramatically. For the past few years, Jorge Posada has defied the typical aging patterns of a catcher. He's had two of his four best seasons, in terms of OPS, in the past three years, including his best overall two years ago, at age 35. That earned him a four-year, $52.4 million contract in the winter of 2007.
That year in the middle, though, was not good. He spent most of the year on the disabled list with shoulder issues which led to season ending surgery. When he was on the field he wasn't terrible, hitting .268/.364/.411 in 195 plate appearances, but that's not the production we're used to seeing from Posada. At least not over the two years before that. It certainly left his 2009 status up in the air. Reports were that his shoulder would be ready for Spring Training, but there were no guarantees that it would hold up, or that Posada would return to his old form.
Other than a minor injury in May, Posada had a great 2009. His OPS, as mentioned, was the fourth highest of his career. This had a lot to do with power — Jorge's .522 slugging percentage was well above his carer average of .480. Best of all, his shoulder held up just fine, as he threw out 31 of 80 base stealers, his highest percentage since 2006. But does this recovery signal that Posada will follow it with another good season in 2010?
This brings us back to the part about catchers not aging well. Posada will 39 next August (though it will be his age-38 season). Not many catchers last that long, and it's not a great bet that Jorge somehow replicates Carlton Fisk's late-career run. There's certainly concern that Posada will drop off, perhaps significantly, in 2010. What some of us want to know is, just how likely is a decline from Jorge?
In The Hardball Times Baseball Annual 2010, Bill James writes about the topic of player performance from year. He wants to know how likely a player is to have a better year than his previous one. This is based on factors like the player's OPS in the past year vs. his career OPS, his age, batting average on balls in play, and other factors. He explains it all in the article. You can download the PDF here, or just check it out in the embed below.
Not only does James think Posada has a poor change of repeating his 2009 numbers, but he thinks that Posada is the least likely player in the league to replicate his 2009. I'm not here to debate the merits of James's methodology. I happen to think, though, that Jorge isn't very likely at all to perform nearly as well as 2009. I don't base my concern on a rigorous system like Mr. James's, though his is an interesting study. I do, however, find concern in many of the areas James studies.
First, age is certainly a concern. Jorge is old for an effective baseball player, and very old for a catcher. Age catches up to different players in different ways and at different times. Jorge didn't move behind the plate until he was already in the minors, so that gives him some advantage, but even still he's been catching for many, many years now. Maybe the late move helped him stave off the typical catcher aging curve, but that won't last forever. Next year might not be the year, but eventually it will be. I'm certainly concerned that next year will be it.
Second, much of Jorge's 2009 production was based on power. His Iso was .238, the highest mark of his career (he was, though, at .237 in 2003), and his 17.9 percent home run to fly ball percentage was his highest in six seasons. Power is a skill that tends to decline with age. It's highly unlikely that Posada will match his 2009 Iso mark in 2010, because he's only been that high once before in his career — and also, in case it's not clear, he's 38 years old and will turn 39 during next season.
Third, Jorge's walk to strikeout ratio plummeted in 2009. He walked 48 times to 101 strikeouts, which was his worst ratio since 2001. As James notes, some players have good years while striking out a lot and not walking much, but they tend to decline in subsequent years. Posada also experienced a high BABIP in 2009, .335, which was not quite on the level of his .389 mark in 2007, but still well above any of his seasons since 2002. This is a further concern for Posada, again, because of his age.
No one wants to see Jorge Posada's production decline. He's been an important part of the Yankees for over a decade, and to lose his bat at the catcher's position would be a tough blow for the lineup. I really hope that Jorge has another year in him that he can fight off the normal aging curve for a catcher. Given his age and parts of his performance in 2009, however, I'm not that confident. Baseball's a funny game, though. Maybe Jorge goes on and OPSs .829 at age 42 like Fisk. It's more likely, though, that he declines before that. I'm just a little concerned that it will start next year.
The cited Bill James article comes from The Hardball Times Baseball Annual 2010, which you can buy here. Yeah, it's a little cheaper on Amazon, but Amazon screws authors. Might as well support the guys who created it.
Photo credit: Jim McIsaac/Getty Images