Over the next week or so, we'll again break down what went wrong and what went right for the 2009 Yankees. The series this year will be much more enjoyable than the last.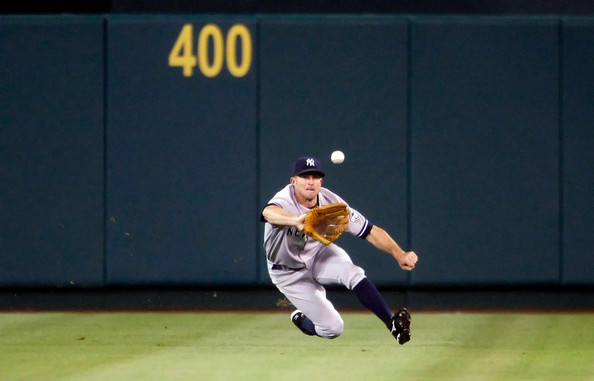 Pitching and defense wins championships, or so the saying goes. The 2008 Yankees were one of the game's worst defensive clubs, ranking next to last in the AL, and third worst overall, with a -44.5 team UZR. They were particularly bad in rightfield, where Bobby Abreu shied away from walls (-25.3 UZR/150), and at first base, where Jason Giambi had the range of a life-sized cardboard cutout of Jason Giambi. If that wasn't bad enough, both Derek Jeter (-0.7 UZR/150) and Robinson Cano (-7.0) were subpar in the middle infield.
Unfortunately, bad defense has been a staple of recent Yankee teams, and it's not a coincidence that those teams bowed out in the first round of the playoffs. The 2009 Mariners and 2008 Rays were able to overhaul their defense in one offseason, but the Yanks weren't in a position to turn such a trick last winter because they're locked in at so many positions. Instead, the team had to make small improvements where they could, and hope that new first base coach Mick Kelleher could help the guys that were already here.
The first step in the defensive transformation came  when the braintrust decided to let Abreu and Giambi walk. Both were extremely productive offensive players, but … um … "limited" in the field, which dragged down their value and overall contribution to the team. Nick Swisher replaced Abreu and instantly upgraded the defense through his average range and willingness to go after a ball hit to the wall. Mark Teixeira took over for Giambi, and the difference was like night and day. Not only would Tex dare to venture after balls hit more than three feet away from him, but he also saved many an error for the other infielders with his scoops around the bag.
Replacing Abreu and Giambi was only part of the process. After a subpar defensive season in 2008, Cano rebounded to provide solid defense at the keystone spot, and even just part-time duty from Brett Gardner helped turn more balls hit to center into outs. Perhaps the most surprising defensive improvement came from Derek Jeter, who despite being traditionally awful in the field, actually enjoyed what was arguably the best defensive season of his career. Kelleher has a reputation as a defensive guy, so maybe we need to start giving me more credit than we have (basically none).
Here's a position by position comparison of the 2008 and the 2009 Yankee defenses (click for a larger view):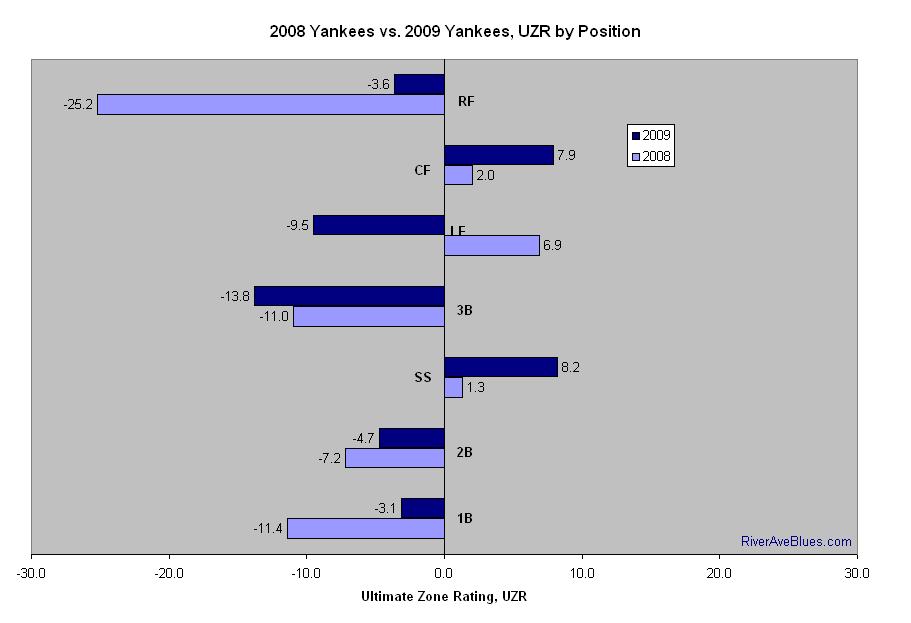 As you can see, the team improved defensively at five of the seven non-pitcher & catcher spots this year. Johnny Damon's unexpected nosedive off the defensive cliff is the glaring exception, although Alex Rodriguez also went backwards a bit last year, likely due to his hip surgery. In the end, the team enjoyed tremendous defensive improvements at first and short, as well as in right and center. As a reward for their efforts, they set a Major League record by not committing an error in 18 consecutive games.
Overall, the Yankees went from one of the worst defensive clubs in the game in 2008 to about middle of the pack in 2009. Their -18.5 team UZR this year is by no means outstanding, but when combined with their strikeout pitching staff and juggernaut lineup, it was more than enough to get the job done.
Photo Credit: Jeff Gross, Getty Images