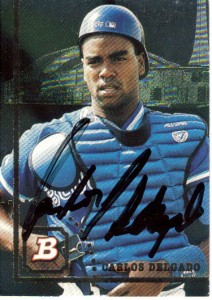 Of the three major holes the Yankees have to fill this offseason, designated hitter is probably the least important. I think everyone's preference is to bring Hideki Matsui back on a one year deal, and we've already discussed Nick Johnson as a backup plan. However, every good backup plan needs a backup backup plan.
One such backup backup plan could be former Toronto great Carlos Delgado. After spending the last four years stuck in Queens, Delgado hits the free agent market for just the second time in his career (the first time he cashed in on a four year, $52M deal from the Marlins of all teams). However, the former AL MVP runner-up missed all but a month of the 2009 season with an inpingement in his hip, which is the exact same thing that kept A-Rod on the shelf to start the season. Delgado went ahead and had the full blown surgery to repair the condition rather than the hybrid procedure the Yanks' third baseman had. It was Delgado's first trip to the DL in four years, a testament to his durability. A-Rod and Chase Utley came back from similar procedures like champs, however those guys are world class athletes and several years younger than Delgado.
Obviously, there's a tremendous health risk in signing Delgado. He's expected to join a Puerto Rican League winter ball team soon, which will give him a chance to showcase his surgically repaired hip. The risk comes with a potential great reward however, as Delgado remains one of the game's best sluggers despite being 37-years-old.
Prior to the hip injury (SSS, yes), Delgado was hitting .298-.393-.521 this year (no doubt fueled by a .343 BABIP), and that includes .280-.393-.600 in 61 plate appearances at spacious CitiField (.314 BABIP). Over the last three seasons, Delgado's been a .267-.347-.488 hitter, though that includes a .229-.306-.396 first half in 2008 before Ross Ohlendorf was nice enough to help get him back on track.  Delgado played in the AL for a long time, and he's done the DH thing before, so there's certainly some familiarity. Plus, I learned from watching Yankees on Deck that he's great friends with Jorge Posada, another feature in the familiarity cap. Oh yeah, I went there.
Any team that signs Carlos Delgado shouldn't expect the .290-.400-.580 monster he was for most of his career, instead he's probably a .260-.380-.470 guy these days, which really isn't that far off from what Hideki Matsui was in 2009. His power remains elite (sitting around a .220 IsoP the last few years), and it'll probably get a bump up improve with a move to the New Yankee Stadium. Of course, the health of his hip is the controlling condition. If he's not 100% a-okay, then forget it. Oh, and nothing more than a one year deal too.
Also, just because his name will come up, the soon-to-be non-tendered Jack Cust could also be an option. However the only two departments in which he provides value – on-base ability and power – have been in decline during the past three years. Is OBP has dropped from .408 in 2007 to .375 in 2008 to .356 in 2009, while his SLG has gone from .504 to .476 to .417. If more advanced stats are what you crave, his IsoD has gone from .152 to .144 to .116 in that time while his IsoP has dropped from .248 to .245 to .177. After three full years in the league, the book may be out Cust, and he doesn't appear to have adjusted back yet.
I'm not saying Cust is a non-option at DH, but he should only be a "break glass in case of emergency" option. World Series MVP Hideki Matsui remains the most obvious and best choice to fill the DH spot going into 2010, however there are no shortage of affordable options.