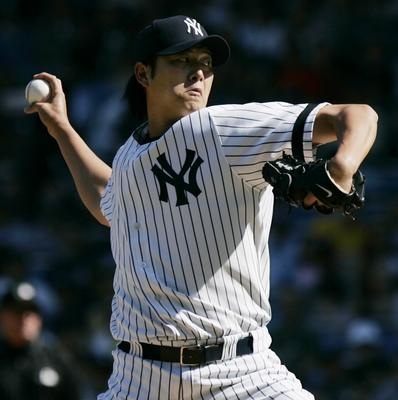 The deadline for teams to offer contracts to players under their control is midnight tonight, and Ken Davidoff reports that the Yankees will not tender Chien-Ming Wang a contract. Davidoff initially reported this development six days ago via Twitter and confirms it tonight.
Says the brief subscribers' only article on Newsday's website:
The Yankees' top priority this offseason remains improving their starting rotation. On Saturday, however, they'll bid farewell to the pitcher who has won the most games since Brian Cashman became a bona fide general manager. Chien-Ming Wang, still rehabilitating after right shoulder surgery, will not be tendered a contract by the Yankees Saturday. He might very well top the list of non-tenders throughout the industry…

Wang's agent, Alan Nero, has said the righthander could be ready by Opening Day, but Cashman said this past week that he thinks Wang will be back sometime between April and June. The Yankees simply don't think Wang will be able to contribute in any significant fashion in 2010."
Wang, who turns 30 in March, was signed by the Yanks as an international free agent in 2000. He made his Major League debut in 2005 and turned in three very strong seasons for the Yanks at a time when the team couldn't find pitching. In mid-2008, though, disaster struck when Wang suffered a freak Lisfranc injury while running the bases during an Interleague Play game in Houston.
After sitting out the second half of 2008 while rehabbing his foot, the sinker ball specialist attempted a comeback in 2009. He suffered through a bout of horrendous ineffectiveness early on. In his first three appearances of the year, he lasted just 6 innings and allowed 23 earned runs on 23 hits and six walks. After spending a month on the disabled list to build up his lower body strength, he came back in late May and was better. Over his final nine games for the Yanks, he went 1-3 with a 5.50 ERA in 36 innings. Encouraging for Wang were the 27 strike outs, but he left his July 4th start with shoulder pains. A few weeks later, after three different opinions, he opted for labrum surgery, the second major arm procedure of his career.
At this point, the Yankees are moving forward without Wang in their plans. He says that a Bronx return remains his first choice, and as a non-tendered free agent, he could come back to the Yanks on a low base salary with some incentives. The Dodgers, however, will be very keen to bid for his services.
Still, even before his injury, the Yanks were wary of Wang's long-term ability to get outs. They want to arbitration with him after the 2007 season over a matter of $600,000 and then saw his sinker ball lose its effectiveness during the first half of 2008. Had the Yanks tendered Wang, they would have owed him at least $4 million in 2010, and that was a financial risk the team was simply unwilling to take.
Wang was a shining star on the Yanks when the team had no pitching. He was always calm and collected on the hill, and he was a true superstar in his native Taiwan. If this is the end of the Yanks' relationship with Wang, I'll tip my hat to Number 40 and wish him well wherever he lands. A promising career cut short by a freak accident is a sad even to witness indeed.
After the jump, a photo from the Yanks' rookie hazing efforts in 2005. Hard to believe how far Wang, grinning happily in that photo, and the Yanks have come since then.