Open season in the free agent market began a week and a half ago, yet we haven't seen any major activity. Andruw Jones signed with the White Sox and Alex Gonzalez signed with the Blue Jays, but those aren't the types of deals baseball fans crave. Absent this year were the big deals early in the season. Two years ago the Angels signed Torii Hunter in time for Thanksgiving dinner. Last year the Yankees already had a six-year, $140 million offer out to CC Sabathia. This year we've had nothing of the sort, and yesterday's activities explained why.
At midnight, the deadline passed for teams to offer their own free agents arbitration. If a team signed a Type A or Type B player before his former team decided whether to offer him arbitration, the former team would receive compensation. The Angels signed Hunter and the Yankees made a huge offer to Sabathia because it was assumed that their teams would offer them arbitration. Things weren't so certain this year. Of the 21 Type A free agents eligible for arbitration offers, only 10 received them. Teams proceeded with caution, not wanting to get stuck with a player at the wrong price.
Johnny Damon was among the Type As not offered arbitration. While this doesn't make the Yankees' desire to retain Damon any clearer, it does tell us that they do not want to pay him $15 million next season. If they do want him back, they want him on a lesser contract. Maybe that's one year, maybe it's one with an option, maybe it's two. But the AAV of any contract will not be in the $13 million range, or else the Yankees probably would have made the offer.
(This actually made me think of Buster Olney's quip from Monday, about the Yankees "getting the right player at the right price." Maybe Damon is the right player, but his arbitration price would not be right. Hence, they declined. Compensation draft picks are nice, but not when they interfere with your major league roster construction.)
As he does with all of his clients, Scott Boras has been talking up Damon. He dropped a mention of "three to four teams who are seriously interested," but that was in the hypothetical. It's not quite clear which teams are interested in Damon, but if one of them is willing to offer Damon three or four years, he'll soon be an ex-Yankee. Even if a two-year deal emerges, there's no guarantee the Yankees will match. Again, they want their player at the right price. Those are two tough parameters to reconcile, but it seems to be the Yanks M.O. these days.
Even though Damon could return, the Yankees will likely move forward planning for life without him. Since an outfield of Cabrera, Gardner, and Swisher is not ideal, the team could look for help on the open market. That brings us back to a familiar name: Mike Cameron. Though the Yankees have not said anything about the free agent center fielder, they have expressed interest in him as recently as last winter. He was under contract with the Brewers then, but now, as a free agent, he could attract the Yankees.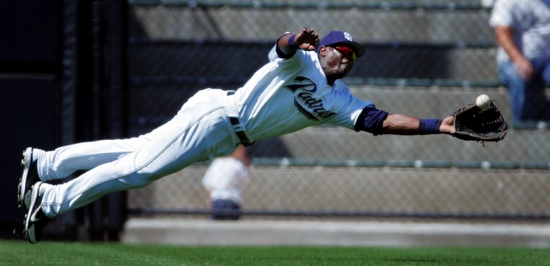 Buster Olney opens a blog post with a bit on Cameron, who, at age 36, is one of the oldest center fielders in the league. Even so, he ranked third in the majors in UZR at his position, and eighth in wOBA. He wouldn't match Damon's offense, especially as a righty at Yankee Stadium, but he could help compensate with his defense. Combine that with a one-year contract, and Cameron might be, to borrow Olney's phrase, a fit for the Yankees.
It sounds like Cameron could be interested, too, given the quote Olney provides.
"I feel like I can still play one of the better center fields in the game," Cameron said the other day. "I feel like I can play with the best of them. At the same time, you have to understand if you want to be in the right spot, [moving to corner outfield] might be an option you want to take. … I'm just trying to get in the right spot to get in the playoffs."
So he's willing to move to a corner, and he wants to play for a playoff contender. It sounds like maybe, just maybe he was hinting at the Yankees. He could have been hinting at other teams, of course — perhaps the Red Sox would show interest if Jason Bay and Matt Holliday sign elsewhere. But there is definitely a fit with the Yankees. Hey, he even stays in touch with former teammate CC Sabathia, with whom he played for just half a season.
If Damon leaves the Yankees for a larger contract, I would think Cameron sits next on the list. He and Matsui, both on one-year contracts, would help the Yankees' lineup in 2010 without tying up those positions long-term. That essentially buys the Yankees another year to evaluate their young players and come up with a longer term solution in the outfield. For Cameron it would mean playing for a contender — he could even play center, too, with Cabrera moving over to left. That would create a good defensive alignment while providing ample offense.