I recently said that all we're going to talk about is left field, but that will get boring, if it hasn't already. So I'm going to make this easy. Over the next few days I'll write up something about the available left fielders, then wrap it up at the end. That will conclude our left field discussion, unless something unforeseen happens. For all predictable rumors, we'll point back to these.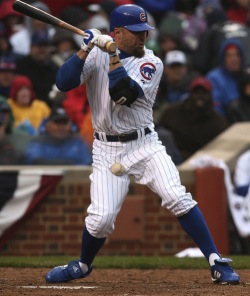 If not for constant injuries, the market for Reed Johnson might be a lot more competitive. The 33-year-old has battled back issues for most of his seven-year major league career, and has suffered other maladies, mostly to his lower body. Not even the Cubs, Johnson's most current team, wants him back. So, then, why would the Yankees even consider him?
Because he's a potentially undervalued commodity.
In 2006, at age 29, Johnson experienced his breakout season. He started off with a 3 for 5 performance against the Twins and kept up the hot hitting for the next five months, ending August with a .327/.400/.501 line. His numbers dropped off a bit in September, probably due to a hip issue that eventually led to a stress fracture in his foot just days before the season ended.
Despite a training program to help correct the hip issue, Johnson still struggled through physical issues in 2007. He rested early in the spring because of a sore back, but by mid-April he was back on the DL, needing surgery for a herniated disc. After over two months of recovery, Johnson returned in July, but didn't produce anything near his 2006 effort, ending the season with a .302 OBP and a .307 SLG. The Blue Jays tendered him a contract that off-season, eventually agreeing to a deal worth over $3 million. But after they added Shannon Stewart they cut Johnson in Spring Training, paying him only about $500,000 in termination pay. To the Cubs he went.
Back problems again affected Johnson in 2008, though he only missed the minimum 15 days. From his return through the end of the season, which included only 165 plate appearances, Johnson hit .342/.377/.461. The Cubs tendered him a contract for 2009, and he produced well enough, hitting .268/.336/.446 through June 20. But, at just about the same time as in 2008 he hit the DL with back soreness. Again he missed only the minimum 15 days, but soon after fractured his foot. A slow recovery meant he got just 20 more plate appearances before the end of the season, though he made them count, hitting three doubles and a triple.
Johnson has demonstrated that he can hit, and for stretches can hit very well. He also plays excellent defense, positing a 23.3 UZR/150 over 2,666.2 career innings in left field. In terms of platooning, he's an ideal caddy for Gardner, or even Granderson, because he mashes lefties, to the tune of .313/.378/.463 over 1,027 career plate appearances. Even in his poor 2009 and 2007 campaigns he posted an OPS of over .900 against lefties.
It appears Johnson's only major downside is his injury history. The frequency of his back injuries makes this no light consideration. If he misses just 15 days because of back issues, it's no big deal. Thankfully, that's all he's missed in each of the past two seasons. His two recent lower body injuries also raise a red flag. His stress fractures were in different legs — right leg and left foot — so maybe there's not a connection. But for a player with Johnson's injury history, it's certainly a concern.
As a platoon player, Johnson does make sense. Facing primarily lefties will not only emphasize his strength in that regard, but will also keep him rested, possibly helping him avoid injury. His excellent defense in left field will also make it easier to play him out there, even if Brett Gardner is as good as his small sample UZR numbers indicate. Since the Yankees seek only a low-cost option for their outfield, it seems Johnson fits the profile.
(Bonus: If the Yankees sign Johnson, he'll have to cut his King Tut goatee. Many people sport good facial hair. Johnson is not one of them.)
So now, whenever a rumor surfaces involving Johnson and the Yankees, we can refer back to this post and its comments. Have your final say now.
Photo credit: Jonathan Daniel/Getty Images North America