Boys & Girls Club with the World Series trophy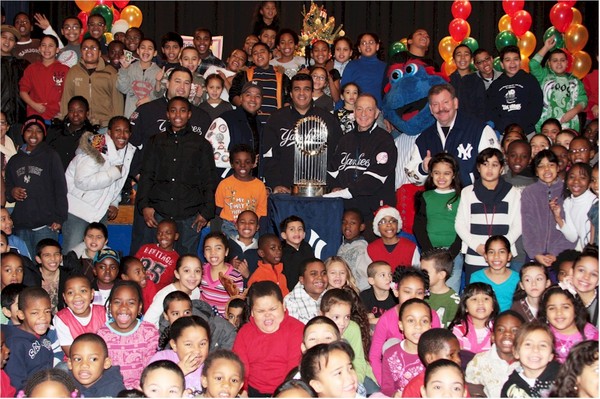 On his blog at YES Network, Jon Lane posted this picture. The Yankees brought their World Series trophy to the Kips Bay Boys & Girls Club in the Bronx last week, as well as a few other branches. Ray Negron is in the picture, to the left of the trophy. The senior adviser is heavily involved organizations like Boys & Girls Club, and has even written children's books — and soon a children's movie. Alex Belth at Bronx Banter did a great series of posts on Negron. You can find them here: Part 1, Part 2, Part 3, and Part 4.
DeRosa wants to play in the Bronx
From the man himself:
"I want to play where I can win a championship, period. The end," DeRosa says. "The finances will take care of themselves. I want to be part of a team that is committed to winning. I know the Yankees are, I know the Mets are. The Mets didn't have a great season, but I know (GM) Omar (Minaya) wants to put a winning program together."
Will the finances really take care of themselves? DeRosa was reportedly seeking three years at $18 million earlier this off-season, but recent word is that he's prepared to lower those demands. He could fit well as a utility man on the Yankees, but I doubt they're interested in him for more than one year — if they're interested at all. If DeRosa is as serious about winning as his quote indicates, he'd do well to take a year an $3 to $4 million from the Yankees. Otherwise, I suspect Brian Cashman wouldn't spend current and future money on a complementary player.
Will health issues keep Yanks away from Sheets?
The link goes to an iYankees summary of a Ken Davidoff report. Sorry, Ken, but that pay wall is just too much (even for me, who has an Optimum account, yet still can't access content). Apparently, Ben Sheets is "not on the board" for the Yankees due to health concerns. Whether that's a leverage ploy or not, I'm not sure. The Yankees have said on multiple occasions that they like Sheets, but it would have to be under the right circumstances. After a strong 2008 season, Sheets underwent surgery for a torn flexor tendon in his right elbow, the same procedure Andy Pettitte underwent in late 2004. Pettitte came back in 2005 to post one of his two best seasons. Could Sheets make a similar recovery?