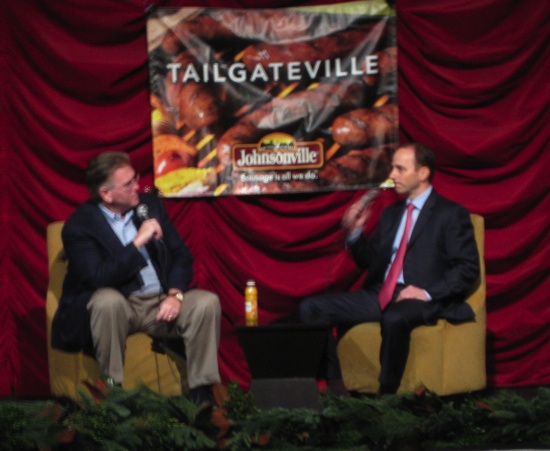 Brian Cashman rarely reveals more than is necessary. As the general manager of the Yankees he faces the media frequently, but he never gives away too much. Instead, he speaks in a rehearsed, collected manner that is alternately comforting and frustrating. Comforting when the team is winning and we're all happy. Frustrating when the team is struggling and we're seeking answers. Sometimes I want to see him tone down the censor and talk more in-depth about the job and the decisions.
At the Hard Rock Cafe in Times Square this morning, WFAN hosted a breakfast with Cashman. Steve S., b/k/a The Artist, kindly invited me, and we enjoyed an hour plus of Cashman talking about the team. Mike Francessa emceed, and unlike on his show he wasn't argumentative for the most part (except for when it came to Joba, which I'll get to in a moment). He let Cashman have the floor, and what resulted was a more candid Casham than I've ever seen.
The headline is a direct quote from Cashman. In fact, it was the first thing he said to the audience. In front of a New York audience it probably wasn't the height of candor, but at that point it was clear to me that this wouldn't be a cookie cutter Brian Cashman interview. He confirmed my thought a few moments later when he called Joe Torre's book "garbage." I know he was critical of the book in the past, but this is the first time I've heard him speak so strongly about it. Which makes sense, as he explains. Cashman was, after all, the general manager for all but two of Torre's Yankee years, and wasn't once interviewed for the book.
He then moved onto the managerial hiring process. With Joe Torre at the helm since Cashman took over, he'd never had to conduct manager interviews. Even in 1995-1996, when he was the assistant GM, there was no real process for interviewing candidates. The job was simply offered to Torre, and he accepted. This came after, earlier in the off-season, Torre turned down an offer to be general manager. No one wanted to work in that position under Steinbrenner at the time, and The Boss found that embarrassing. It probably led to the decision to hire Cashman in 1998; there was little chance Cashman, who started with the Yankees as an intern in 1986, would turn down the position.
When deciding among Don Mattingly, Tony Pena, and Joe Girardi, the Yankees set up day-long interviews that involved the entire baseball operations team. The heads of pro scouting, amateur scouting, player development — everyone in the organization who would have to deal with the manager on a frequent basis. As far as the actual assessment, Cashman gave an example. He put the Yankees projected 2008 roster in front of each candidate and asked what he would do in the following situation. It's July. CC Sabathia is on the mound. How do you arrange the lineup? He noted that at least one chose to sit the lefties in that situation. Then he presented the same scenario, but changed it to Game 1 of the ALDS. Still Sabathia, still the same roster. Yet at that point, the manager left the lefties in the lineup. The exercise wasn't to find a per se correct answer. Rather, Cashman wanted an explanation for the dissonance, if it were present.
Of course, when the topic of starting pitching arose, Francessa put back on his bullheaded attitude regarding Joba Chamberlain. He's a born reliever, yada yada yada. Cashman explained the situation as he always does: it's much harder to find a starter than a reliever, when you find a good starter on the free agent market he'll cost you a lot of money, and it's easier to move a starter to the bullpen if necessary. Francessa kept interrupting and misunderstanding. He said no fewer than five times that it was a "purely economical issue," as if it were some great revelation. Of course, it's not "purely" an economical issue, though economics do play a prominent role. It's also about maximizing the value of each player, but Cashman couldn't get in a word edgewise to explain that.
Another fascinating part of the talk came when Cashman described the new guys. When he brought in Nick Swisher, A.J. Burnett, CC Sabathia, and Mark Teixeira, the told them to not check their personalities at the door — that he brought them in not only because they were exceptional baseball players, but because they could change the stodgy atmosphere of the Yankees clubhouse. "I told them to not be intimidated," he said. That's a tremendous task, of course. The Yankees clubhouse contained four luminaries from the 90s dynasty. How can four new guys come in and turn things around? Apparently they were up to the task, though, and Cashman couldn't be happier.
"I like the Joba fist pumps, I like pies in the face," he said. What's there not to like about it? Francessa weighed in, saying he thought that some of Swisher's and Burnett's antics were childish. Remember, though, that these guys are playing a game. It might be a business, it might be career, and it requires a level of seriousness. But the career, the business, is a game. Cashman seems more than pleased that his 2009 team kept that in mind.
Towards the end Francessa opened the floor for fan questions, and encouraged us to ask about the team's plans. Cashman noted that he couldn't go too into detail, because, "if I say we're after a certain player, then the Red Sox know that." So while Cashman was at his most candid, he also knew when to play his cards close to his chest. From the tone of his answers, it doesn't sound like the Yankees will offer arbitration to any of their free agents. He didn't say this explicitly, but it's what I inferred from his answers.
Steve got in a question, perhaps the best of the event. He asked Cashman how draft pick compensation factors into a decision on signing a free agent relief pitcher. Cashman opened by talking about the volatility of relief pitchers and how the Yankees have assembled the bullpen from within over the past few years. Francessa then directed him back to the question, to which Cashman replied that unless it was a situation where there was a specific guy they wanted, to fill a certain role, then they would not sacrifice a draft pick to sign a reliever. In other words, don't expect the Yankees to pursue Rafael Soriano or Mike Gonzalez if the Braves offer them arbitration this evening.
It meant getting up hours earlier than I normally do, but this breakfast event was more than worth the small sacrifice. Francessa let Cashman have the floor, and that was a great success. I learned more about what goes into his job than I have from dozens of previous interviews. And hey, I might even track him down and ask him a bit more at the Winter Meetings next week. Also, a big thanks to Steve for the invite. I owe you a beer, buddy.