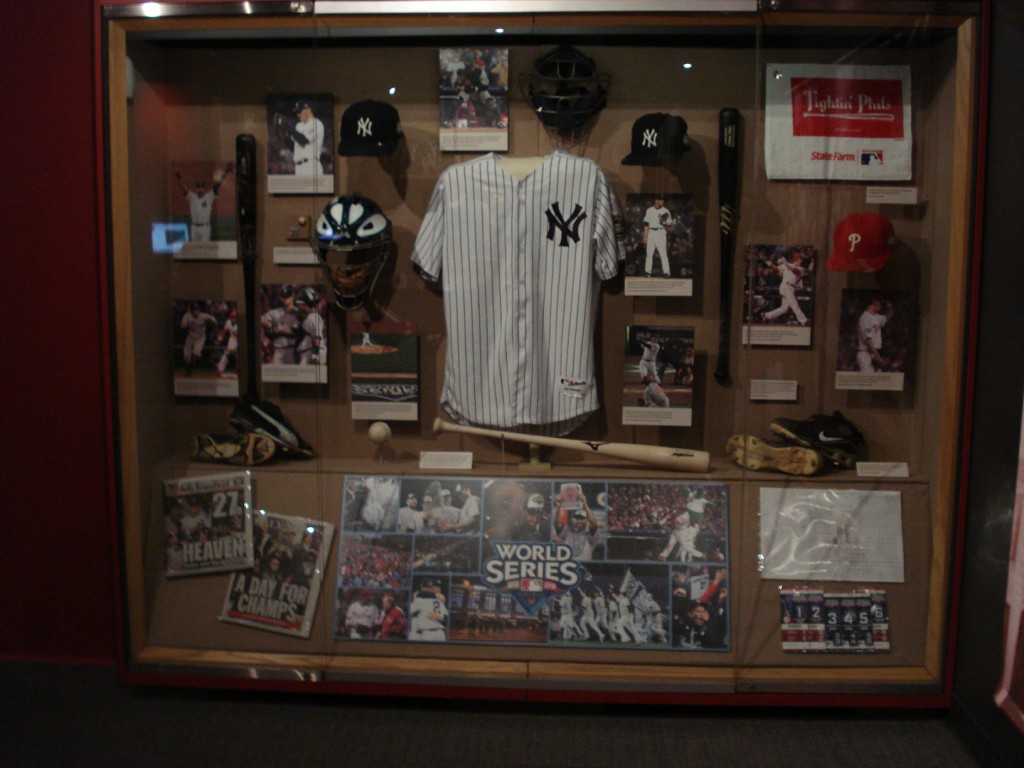 Did you miss me? In case you hadn't noticed, I was away from RAB the last three days, checking out the Baseball Hall of Fame in Cooperstown. I had never been there before, so everything was new to me. We spent basically all day Monday in the HOF and the museum, and you can see all the pics I took here. As you're scrolling through the slideshow, be sure to click "Show Info" in the top right corner to get the description of what each pic is.
What you see above is the Hall's 2009 World Series display. It consists of Andy Pettitte's ALCS jersey, Hideki Matsui's World Series Game 6 bat, Mo's hat, Johnny Damon's double-steal spikes, A-Rod's WS Game 6 spikes, Suzyn Waldman's Game 6 scorecard, Jose Molina's and Jorge Posada's masks, the ball CC Sabathia threw for the first pitch of the series, and tons of other stuff. Eventually the 2009 WS ring will join the '98, '99, and '00 rings in the giant display case.
Babe Ruth had his own room in the Hall, which basically told his life story and chronicled all of his baseball exploits. It contained the story about how he was found, his old glove,  his famed "called shot" bat (it's the one on the left), an old Christmas card, and not to mention his bowling ball and various golf trophies (who knew?). Oh, and of course they had his locker.  Joe DiMaggio, Mickey Mantle, and Lou Gehrig all had their own displays as well.
Another room had more recent milestones, with each team getting it's own locker. The Yanks' locker featured Matsui's bat from his grand slam against the Twins in 2003, Derek Jeter's spikes from when he passed Lou Gehrig's as the team's all-time hit leader, a shovel they used to break ground on the New Stadium, Mike Mussina's hat from his 20th win, Mo's hat from his 400th save, A-Rod's helmet from his 500th homer, and Aaron Boone's bat from Game 7 of 2003 ALCS. Among the other miscellaneous items displayed throughout the museum, there was the 1996 World Series trophy, one of Don Mattingly's Gold Gloves, a 1973 ticket booth from Yankee Stadium, Melky's helmet from his cycle, Curtis Granderson's jersey from when he went 20-20-20-20, and the lineup card from the team's record breaking 112th win in 1998.
The hands down coolest item on display was Ted Williams' strikezone. Each ball tells you what he hit on pitches to that spot. I guess you had to keep the ball down, or else. Well, Honus Wagner's hat and flip down shades were pretty badass too. If you scroll through my Twitter feed, you'll find a couple other pics as well. Hope you enjoy 'em, the trip was a blast.
Anyway, here's your open thread for the night. Both the Isles and Knicks are in action, but talk about whatever you want.