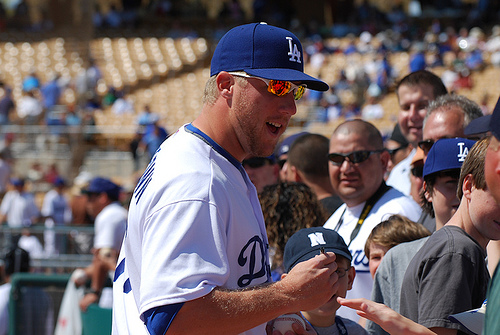 Jamie Hoffmann | OF
Background
Hoffmann was raised in New Ulm, Minnesota, which is about 100 miles southwest of Minneapolis. He starred in both baseball and hockey for New Ulm High, being named Minnesota Baseball Player of the Year as a junior and leading the school to the state championship as a senior. After playing in the United States Hockey League during the 2002-2003 season, the Carolina Hurricanes selected Hoffmann in the 8th round of the 2003 NHL Draft, however he went undrafted in baseball. He almost went to Colorado College to play hockey, but ended up signing with the Dodgers as an undrafted free agent in August of 2003.
Pro Career
After starting the 2004 season in Extended Spring Training, the Dodgers sent Hoffmann to their rookie level Gulf Coast League affiliate. He led the circuit in hits (71), runs scored (40), triples (7), total bases (105), and runs batted in (36), and was named to the All Star Team as a third baseman.
Assigned to Low-A Columbus to begin the 2005 season, Hoffmann moved to the outfield and hit.308-.383-.414 with 10 steals before being bumped up to High-A Vero Beach mid-season. He hit just .241-.287-.319 with the Baby Dodgers, and .285-.351-.382 overall. Baseball America rated him Los Angeles' 27th best prospect after the season.
Sent back to Vero Beach in 2006, Hoffmann stayed there all year and hit .252-.309-.323 with just 21 extra base hits in 492 plate appearances. The Dodgers again assigned him to High-A to begin the 2007 season, however their new affiliate was located in Inland Empire, California. The move to the hitter friendly Cal League clearly boosted Hoffmann's game, as he hit .309-.378-.455 in his season there.
Finally ready to be bumped up a level, Hoffmann hit .278-.350-.395 for Double-A Jacksonville in 2008, and was named the organization's 22nd best prospect by Baseball America after the season. The Dodgers sent Hoffmann to their new Double-A affiliate in Chattanooga to start the 2009 season, however he forced a promotion to Triple-A by hitting .307-.457-.495 in his first 127 plate appearances. After just eight games with Triple-A Albuquerque, during which he hit .257-.366-.457, Hoffmann was summoned to the big leagues in mid-May because Manny Ramirez's PED suspension left the Dodgers short in the outfield.
After two uneventful pinch hitting appearances, Hoffmann took Matt Palmer of the Angels deep in the first at-bat of his first start for his first Major League hit in the third big league game of his career. He later drove in a run with a double off Darren Oliver in the 7th. Hoffmann went 3-for-8 with two doubles, a homer, and six RBI in his first two career starts on May 25th and 26th, so naturally Joe Torre kept him glued to the bench for the team's next five games. His big league stint lasted just 19 days and 24 plate appearances, during which he hit .182-.167-.409.
Sent back to Triple-A in early June, Hoffmann hit .288-.363-.455 the rest of the way. He was designated for assignment on Sept. 1st to clear a spot on the 40-man roster for the newly acquired Jon Garland. Hoffmann was left off the 40-man roster during the offseason, and the Yankees arranged for the Nationals to select him with the first overall pick of the 2009 Rule 5 Draft and send him to the Bronx per the terms of the Brian Bruney trade.
Scouting Report
A good athlete, Hoffmann's one of those guys who does everything well but nothing great. His best attribute is his defense, and he can man all three outfield spots with aplomb thanks to his good jumps and direct routes. He also has a strong throwing arm and plays all-out all the time.
Offensively, Hoffmann is a line drive hitter that sprays the ball from gap-to-gap. He makes consistent contact and his approach is sound, though he can struggle against quality breaking pitches. At 25-years-old with a maxed out 6′-3″, 235lb frame, Hoffmann doesn't project to add anything to his just okay power, however he makes up for it with good speed and baserunning skills. He hits from a slightly open stance and his swing can get out of whack, which leads to struggles against pitches on the outer half. The righty swinging Hoffmann traditionally had a reverse split, however he broke out and hit .308-.432-.542 against lefties in 2009. Chances are it's just a sample size issue, however.
"He's a big, physical outfielder with big league experience," said Yankees director of pro scouting Billy Eppler. "Our scouts saw some good things in him, including good defensive ability and a good arm. He runs well for his size, we've got him as a 55 runner at 6-foot-3, 235. Kevin Long, our hitting coordinator, looked at him on video and thinks there's a foundation there hitting-wise."
Here's a clip of Hoffmann's first career hit/homer, an RBI double (yay Brad Hawpe), and a nice play in the outfield.
2010 Outlook
Hoffmann will get a look in Spring Training with a chance to make the team as a reserve outfielder, however those plans may change depending on how the rest of the offseason plays out. What happens after camp is anyone's guess, though the Yanks are assuming he'll stick around.
My Take
I like the pick. This is about what you'd expect in the Rule 5 Draft, a potentially useful role player, but not a cornerstone guy. It's unfathomable to think the Yankees will carry Melky Cabrera, Brett Gardner, and Hoffmann on their 25-man roster at the same time this season, so something's got to give. Regardless of what happens in Spring Training, it would behoove the Yanks to work out a trade with the Dodgers allowing them to keep Hoffmann in the minors. The Austin Jackson trade further thinned whatever little upper level outfield depth the Yanks had, so having a guy like Hoffmann stashed away and getting regular playing time in Triple-A is the best situation for everyone involved.
Photo Credit: Flickr user phxwebguy