This year's free agent market features a number of players who carry an injury risk. Some of them missed part or all of 2009, while others come with a medical red flag. These players will all get deals, though, as long as their demands aren't outrageous. Teams love one-year deals. It means minimal risk for them. We've already seen the Rangers gamble on Rich Harden. Could the Yankees be the next?
The New York Post reports that the Yankees "are talking" with Nick Johnson about a one-year deal. It is not known how serious these talks have become, but George King has a quote from Johnson's agent, Rex Gray, who says that "things are moving forward." Even that quote, though, doesn't explicitly refer to the Yankees and Johnson. So there's reason to doubt the two sides are anywhere close to an agreement. But, if true, it presents an interesting option to replace Hideki Matsui at DH.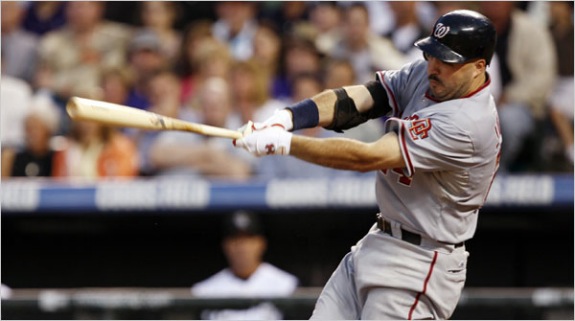 Johnson falls in the second category of injury risk free agents, the kind that carries a medical red flag. In his eight-year major league career, Jonson has broken 600 plate appearances just once, and has had more than 500 plate appearances just three times. One of those three was last season, a good sign, but Johnson's injury history is long enough to give any team pause. From a Hardball Times article about Johnson:
In 2003, he had a fracture in his right hand, and missed more than two months of the season as a result. He struggled in 2004 after having a lingering back injury, as well as a fractured cheekbone from a batted ball. He never did on track during the 2004 season, in all likelihood a result of his back injury.
After that Johnson stepped to the plate 547 times in 2005 and then 628 in 2007. He ended the latter season on the DL, however, with a broken femur, the result of a collision with teammate Austin Kearns. That kept him out the entire 2007 season. He returned in 2008, starting slow before suffering a torn ligament on the ulnar side of his right wrist. Even during his mostly successful 2009 season he missed half a month with a strained hamstring.
When healthy, Johnson produces immense value. In only two seasons has his on base percentage dipped below .400 — 2002, his first full season, and 2004, the season he struggled with back problems. He walks more than he strikes out, though he doesn't strike out a whole lot. His contact rate is right around Hideki Matsui's. Even better, he had a reverse platoon split in 2009, hitting .281/.420/.389 against righties, but .316/.440/.444 against lefties. Kind of like…Hideki Matsui.
At this point in his career, Johnson's weakness is his power. Once an asset, his ISO fell to .114 this season after residing around or above .200 in his previous healthy seasons. The wrist injury probably has something to do with that. He might recover some power in 2010, he might not. But even if he doesn't, he's still a valuable offensive asset. That on-base percentage and contact rate would play well in the two-spot behind Derek Jeter.
Signing Johnson as the team's DH would probably close the door to Johnny Damon. If, as Joel Sherman has repeated for the past two weeks, the Yankees see Damon as a 70-game left fielder and 70-game DH, there wouldn't be room for him on the roster. After a day filled with reports that Damon won't return to the Yankees for less than the $13 million he earned in 2009, on a multiyear contract, the Yankees could be ready to move on. Or maybe the Yankees are using this to get Damon to the table.
While Johnson presents a medical risk, Damon carries a relatively clean injury history. He hit the DL for the first and only time in his career last July, and has 600 or more plate appearances in each of the past 12 seasons. In the two seasons before that he had over 500 plate appearances. He plays through minor injuries, and while those might catch up to him as he ages, he's still a much better bet to bat 600 times in 2010.
Injury is the only risk Johnson carriers, but it's clearly a significant one. If they sign him as DH and go with Melky Cabrera (or Brett Gardner) as the left fielder, they leave themselves vulnerable if Johnson lands on the disabled list. I'd like a Johnson signing much more if they were to land a bigger bat for left field. Say, Matt Holliday. Without him, a Johnson injury would devastate the lineup, leaving an outfield of Cabrera, Curtis Granderson, and Gardner, with Nick Swisher at DH.
Given the choice, though, between a multiyear contract for Damon at $13 per annum and Johnson on a one-year deal, I'll take Johnson. If healthy he replaces Damon's production (they had near-identical wOBAs in 2009), and any recovery of power would make that even better. Time at DH could also mitigate the injury risk. I'd rather have Damon because of his familiarity, flexibility, and durability, but if his demands don't come down, Nick Johnson presents a quality alternative.
Photo credit: David Zalubowski/Associated Press