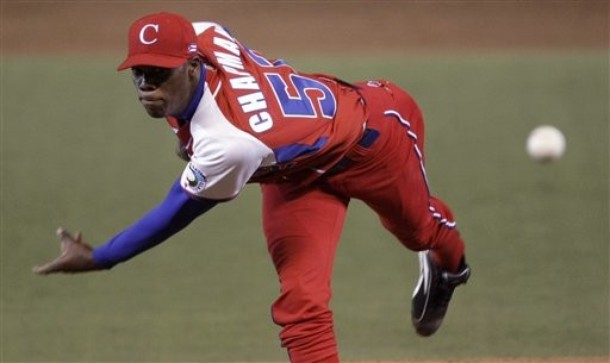 Via Jorge Arangure (Insider req'd), the Yankees are trying to set up a private visit with Cuban lefty Aroldis Chapman in Miami. The Yanks had someone attend Chapman's workout in Houston on Tuesday, and according to Arangure, the southpaw looked pretty good. The weather was an issue – he ended up throwing off a wooden mound inside while wearing sneakers – yet he still hit 97 while working mostly at 92-93, and flashed a better delivery than before.
"He had a hitch in his lower body that caused his delivery to be inconsistent," [agent Rodney] Fernandez, a former minor league pitcher in the Marlins system, said. "Teams were amazed at how quickly he's been able to make the adjustments."
Chapman also appears to have added some muscle to his wiry frame, likely the result of being on a better diet and conditioning program. Several clubs apparently noted that his reputation as being an immature kid is inaccurate.
"He's a good kid and he doesn't deserve the negative image that has been put on him," Fernandez said. "He showed the baseball world what type of person he is. There has been some negativity about his personality, but he's a mature kid. He wants to play in the World Series."
Kevin Goldstein of Baseball Prospectus spoke to one baseball person that thinks Chapman could pull in as much as $30M, but I'm sticking to my $18-20M prediction. The Hendricks Brothers are now officially accepting offers, however they're being sued by Chapman's former agent Edwin Mejia, who got the boot last month. Because Mejia has been designated as Chapman's sponsor per the conditions of his visa, it's possible (though unlikely) the lefty may end up back in Andorra if his visa is revoked.
Regardless of how all that legal stuff plays out, the Yanks are clearly interested in adding Chapman's powerful arm to their organization. The Red Sox have already made a ~$15M offer to his previous agent, and considering that there were about fifteen totals teams in attendance during his workout, you an be sure the Yanks will have some competition for his services.
Photo Credit: Gregory Bull, AP