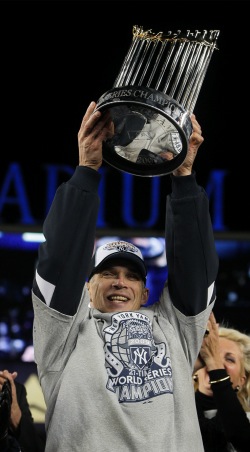 With the core of the 2010 already in place, and with few interesting names left to discuss on the free agent market, we're all looking forward to actual baseball. That's a wonderful thought. Players swinging the bat, rather than us wondering how they're going to swing the bat. But, because we're still in the off-season — and still have plenty of it to go — we're still in off-season mode. Instead of looking at the scraps left on this free agent market1, let's take a look forward to next off-season. The Yankees have three key free agents on deck, but the only real decision on what to do lies with the manager.
During his first two years as Yankees' skipper, Joe Girardi has had his ups and downs. Strangely enough, judging by reactions from people on this site, it seems that he met a more favorable reaction in 2008, when the team missed the playoffs, than in 2009, when the team won the World Series. Maybe Girardi got a break in '08 because it was his first year. He not only had to follow Joe Torre, but as the season wore on he had to deal with injuries to key players. In '09, after missing the playoffs for the first time in 13 years, fans became less forgiving.
Riffing on a Pinstripe Alley post, Kevin Kaduk of Big League Stew wonders what it would take for the Yankees to let Girardi walk at season's end. As he notes, "it's almost impossible to imagine a scenario where the Yanks miss the playoffs and a shot at a 28th title." I wouldn't quite go that far. It's quite easy to imagine a scenario in which any of the three AL East powerhouses loses a key guy or two to injury and falls behind the pack. That can happen when three teams vie for two playoff spots.
What's nearly impossible to imagine is a scenario where the Yankees miss the playoffs because of something Girardi did. If the Yankees end up the odd man out in 2010, it will likely be because of injuries or off years from key players. It won't be be because Girardi put his lineup in the wrong order, or used the wrong reliever in a certain situation. Those might hurt, but they aren't cause for a 95- to 100-win team to miss the playoffs, even with the Red Sox and Rays ready to take advantage of every opportunity.
Even if the Yankees did decide to fire Girardi, what are the chances they hire someone that fans like better — or who is, on the field and off, a better manager than Girardi? Yankees fans have a tendency to blame the manager for many things. We complained about Girardi throughout 2009, up to and including the World Series. We grew tired of Joe Torre, despite the prominent memory of the late 90s run (and perhaps because he couldn't bring back that magic). But will an alternative really be better? Would the Yankees be better off with, as escape at PA notes, Lou Piniella, Tony Pena, or Willie Randolph? Hardly.
Because it's the Yankees we discuss, I wouldn't put any money on their managerial decision. But I do think it would take not only any catastrophe, but one that could be blamed solely on Girardi, for him to get the axe after this season. It's hard to argue with a World Series title during your first contract.
Photo credit: AP Photo/David J. Phillip
---
1With all due respect to Johnny Damon. (Up)