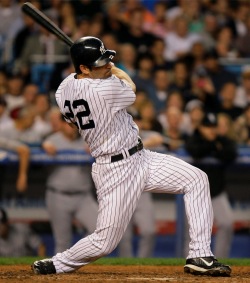 As the winter wears on — yesterday's burst of warm weather made me pine for baseball — one free agent name keeps circling around the Yankees as a vulture does to its dying prey. He might not, in the words of Keith Law, represent much of an improvement, if any, over Brett Gardner, but Xavier Nady just won't go away. Maybe the Yanks really are interested in him, as Joe wrote in his Closing Arguments post; maybe the fans just won't let him go because of the one good month he had in pinstripes in 2008. Either way, the allure of Nady just won't die.
As free agents go, Nady is an interesting case. After landing in the Bronx in the middle of 2008, he finished the year with an overall .305/.357/.510, and the 127 OPS+ was the best mark of his career. Entering his final pre-free agency year in 2009, Nady was primed for a payout this winter. Over the last four seasons, he had hit .284/.339/.474, and while the .339 OBP is lower than most would prefer, his 112 OPS+ had him as a player to watch in 2009.
We know all too well what happened though. Nady injured himself on a throw in Tampa Bay in mid-April, and he never recovered. He tried a series of Platelet Rich Plasma injections but eventually had to go under the knife for his second Tommy John surgery. Multiple Tommy John procedures are a rare occurrence in baseball, and many Yankee fans have wondered about the impact a second surgery would have on an outfielder. Unfortunately, baseball history shows us with just one position player — catcher Vance Wilson — who had the procedure twice. Wilson hasn't played since.
Nady is different. He's younger by a few years than Wilson was and is a better player than Wilson, a journeyman back-up catcher, was. That doesn't help us understand what Nady might be. For that, we turn to Baseball Prospectus' Will Carroll for guidance. When Nady underwent the surgery in late June, Carroll offered up his take. Unfortunately, it's light on the future outlook:
The idea that second surgeries are less successful is unfounded. First, there are no major league position players that have had a re-do. Most that had a re-do have done something to screw it up in the first place, assuming it's a short-term situation. Nady has been through this, and that gives us more information than we'd have with most. Position players come back from this surgery in about six months, though the arm isn't 100 percent at that stage. Unless we find out after surgery that something more has happened in the elbow, even the worst-case scenario would have him back at the end of spring training.
Note how Carroll phrases it. The idea that second surgeries are less successful is unfounded simply because we don't have the data from position players. Some pitchers have had the procedure twice, and many have come back. Nady, though, is the outfield guinea pig. If he can come back and play the outfield, then we don't have to worry as much about future position players who undergo two surgeries. If he can't return to form defensively or offensively, I wouldn't be surprised.
In late September, Carroll offered up a brief update on Nady. "Six months is enough time for him to be healed enough to DH, but he'll have to be careful on outfield throws," Carroll noted. In other words, no team should expect him to be a full-time left fielder out of the game.
As far as Nady's projections go, the 2010 PECOTA cards have not been published yet, but prior to 2009, Nady projected to .271/.324/.448 for 2010. That line is sure to look worse, and as it stands now, those interested teams ? the Yankees, the Cubs and the Braves have all been connected to the X-Man ? won't count on Nady for more than a fourth outfielder slot. If he can do more than that, some team will have a bargain on their hands.
Photo credit: AP Photo/Kathy Willens