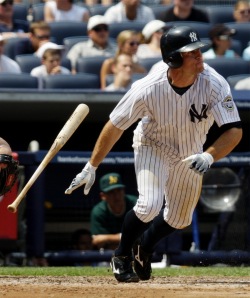 Over the weekend, Ben commented on an article by Chris at iYankees about Brett Gardner's swinging habits. Chris emphasizes how Gardner lays off pitches out of the zone and how his contact rate is high when he swings at either type of pitch. I think Ben was leading up to a good point about what this means for Gardner in 2010, but never quite reached it.
So here we begin to see the problem. Gardner has a very good eye for pitches outside of the strike zone but he seems to be a bit too discerning with pitches inside the zone. He took a lot of strikes — nearly half of them in fact — and seems to have earned a reputation as a player who will take too many pitches.
When I look at the numbers I don't quite see the same thing. Gardner's low swing rate on all pitches makes me wonder if he's disciplined at all. Rather than flashing a discerning eye, he could simply be taking pitches without much regard to location. That could make for rough times in 2010, when he could see playing time as a regular. It would seem that if Gardner continues to lay off pitches indiscriminately, pitchers could easily take advantage.
What happens if pitchers start throwing Gardner more strikes? Will he start swinging at more of them, or will he continue his approach and find himself constantly down in the count? Not that we can draw conclusions based on one similarity, but this is exactly what happened to Scott Podsednik in his sophomore year, as I explained last month.
It happened for Podsednik. In 2003 pitchers threw 49.8 percent of their pitches in the strike zone. In 2004 they threw him 56.2 percent in the zone. Podsednik maintained his contact rate, but predictably saw a dip in his walk percentage. He also hit far fewer line drives in 2004, dropping to 17.7 percent from 23.6 percent. That means more ground balls, which can be good, and more fly balls, detrimental for a low-power player like Podsednik. His fly ball rate rose by 3.5 percent and certainly factored in to his lower 2004 BABIP.
Gardner could help offset this potential adjustment by swinging at more pitches in the zone while continuing to lay off pitches out of the zone. If that sounds a bit simplistic, it is. The idea of a player simply laying off pitches outside the zone while swinging at pitches in the zone reminds me of an exchange in Moneyball.
"If it's not a strike, how hard is it to lay off?" asks Feiny. He's still staring into his own screen, watching Alex Rodriguez at bat.

"Oh, it's hard," says Mabry. …

"Just lay off the bad pitches, John," says Feiny, teasingly.

"Feiny," says Mabry testily. "You ever been in a major league batter's box?"

Feiny doesn't answer.

"I'm telling you," says Mabry, turning back. He points to the screen, on which Moyer tosses another cream puff. "You see that coming at you and it looks like you can hit it three miles."

"So just don't swing, John," says Feiny.

"Yeah," says Mabryu, turning around again to glare at Feiny. "Well, the time you don't swing is the time he throws you three strikes."

…

"Feiny, have you ever faced a major league pitcher?"

"No, John," says Feiny, wearily. "I've never faced a major league pitcher."
At this point it's impossible to predict how Gardner will react if pitchers start getting more aggressive. Will he become more aggressive in turn, swinging at more pitches both inside and out of the zone? What kind of result will that cause? Will he continue to take pitches? Won't that cause his strikeout rate to skyrocket? So many questions, so few answers. Again, this illustrates the trouble with projecting young players. We just don't know how the league will adjust to them, and how they'll adjust in turn.
Photo credit: AP Photo/Frank Franklin II