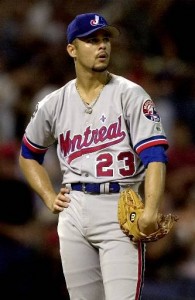 The Yankees and Andy Pettitte have a rather unique relationship. Every year for the last three years, Pettitte went into the offseason uncertain about his future. He ultimately came back each time, though it wasn't until after some long deliberation. And the Yankees welcomed him back each time because they know what he brings to the table and he suits their needs perfectly. They don't need him to be an ace, just an innings guy in the middle of the rotation.
That holds true for old-new pickup Javy Vazquez, who finished fourth on the NL Cy Young voting in 2009 and will be expected to do nothing more than solidify than the fourth spot in the Yankees rotation in 2010.  In an interview with the Puerto Rican newspaper La Perla del Sur (via MLBTR), Javy spoke about his future, most notably about his desire to go year to year. "I don't have much playing time left," said Vazquez. "I go year by year, and I don't know if it will be one, two or three years, but I'm definitely not going to play until 40."
The 33-year-old Vazquez (34 in July) is in the final year of a three year, $34.5MM deal he signed with the White Sox back in 2008. Despite being a 12-year veteran with nearly 400 big league starts to his credit, Javy was never once a free agent, always picking the security of a contract extension over the lure of the open market. Barring something completely unexpected, the Yankees will let him hit free agency after the season, and that's where the similarity to Pettitte comes in.
If Vazquez is truly interested in going year to year at this point (B-Ref says he's made over $80MM in his career, so he's not hurtin' for cash), then perhaps this turns into a "Are you going to retire? If not, we want you back on a one year deal" situation. There's nothing better than having a quality pitcher in his mid-30's on a one year deal to alleviate risk, and if he's up for it, then where's the downside? I'm certain someone will offer Vazquez a multi-year deal after the season, and it's just a question of him a) wanting to win badly enough that he stays in the Bronx on a shorter deal, or b) following the cash. The latter almost always wins out, but stranger things have happened.
Of course this is all predicated on Javy pitching well enough in 2010 that the team wants him back, though I'm willing to bet that's the case. The Yankees rotation is set up front for years to come, and at the moment all we can do is pencil Joba Chamberlain into the 5th spot next year. There's definitely a chance he starts to figure it out and becomes a viable number three starter for the Yanks as soon as 2011, however right now we just can't count on that. Javy Vazquez on a one year deal gives the team the certainty of innings while maintaining roster flexibility, and as long as he's up for it, there's very little reason not to do it.
Photo Credit: Pat Sullivan, AP