We were just about finished with the left field closing arguments series, but then we learned that the Yankees and Jerry Hariston are in serious talks. So we'll bring back the series to examine the Yankees' 2009 second-half utility player.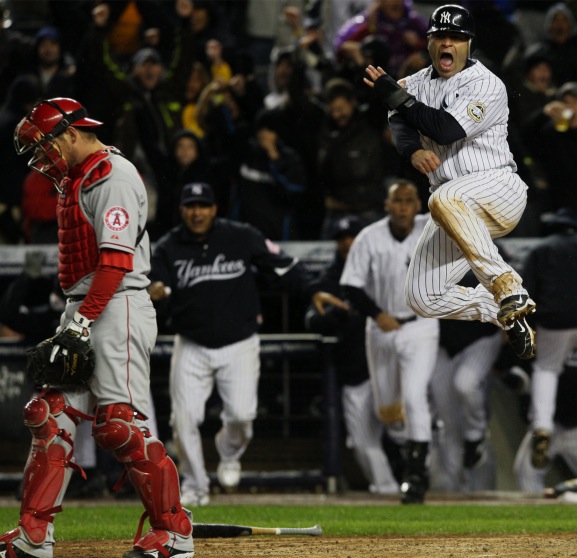 We titled this series left field closing arguments, but Jerry Hairston isn't so much a left field solution as he is a roster solution. Because he can play every position except pitcher and catcher 1, the Yankees can better cover their bench. One player becomes the backup outfielder and backup infielder, thereby creating in essence an extra roster spot. The Yankees can find many uses for that, both to start the season and later on, when they could swing a trade for a more valuable bench asset.
With a 12-man pitching staff, the Yankees have room for just four bench players. Usually that would consist of a backup infielder, outfielder, and catcher, plus one wild card position. By combining the backup infielder and outfielder into one player, Hairston, the Yankees can then afford two wild card bench spots. That allows them the flexibility to give Jamie Hoffmann a real shot to stick with the team. They could also keep Juan Miranda on the bench for pinch-hitting situations.
As a left field solution, Hairston doesn't provide an attractive case. In only two seasons has he hit above league average, and in this seasons he came to the plate a total of 631 times. His highest OPS+ during a season in which he got 400 or more plate appearances was 92, all the way back in 2002, when he was the regular second baseman for the Orioles. It looks like too much exposure can be detrimental to his production.
The Cincinnati Reds found that out first hand last season. They got excellent production from Hairston in 2008 after signing him to a minor league deal, the second straight year in which Hairston had to settle for one. In 297 plate appearances he hit .326/.384/.487 while playing all positions 4 through 9. Apparently impressed, the Reds signed Hairston to a $2 million major league contract for 2009.
He started off slowly in April, but from May 5 to May 30, over 103 plate appearances, Hairston hit .326/.370/.620. It wouldn't last. From May 30 through July 30, the last game he played for the Reds, Hairston came to the plate 191 times and got just 43 hits (.247 BA), including 10 doubles and two home runs. Already out of the race, the Reds traded him to the Yankees for Chase Weems. Used as A-Rod's primary backup at third base and as the fourth outfielder, Hairston hit fairly well as a Yankee, going 18 for 76 (.237) with five doubles two home runs, and 11 walks (to just eight strikeouts).
Offense, however, is just a bonus for Hairston. His true value lies in his ability to cover every position on the diamond. That provides the Yankees with flexibility for their final bench spot. It's very much like the Mariners trading Bill Hall for Casey Kotchman. As Jeff from Lookout Landing explains, "this isn't about Kotchman over the alternative first basemen. Chances are, this is about Kotchman and a righty OF over the alternative first basemen and Hall." For the Yankees, this is about Hairston and the extra bench spot over a left fielder like Reed Johnson a utility infielder like Ramiro Pena.
As a pure left fielder, there are better options. But as a total roster solution, the Yankees will do well to sign Jerry Hairston. He provides them the flexibility to build and change their bench over the course of the season, adding players as they need them. On a team with just four bench slots, combining two of them provides value. Hairston should be well worth a $2 to $3 million contract.
Photo credit: AP Photo/Elise Amendola
---

1And in the playoffs, after Jorge Posada subbed for Jose Molina, Hairston was said to be the emergency catcher. (Up)