After a New Year's hiatus, we return with our ongoing series on the left field situation. Given the parameters — mostly a caddy for Gardner — we're looking at the available free agents to determine whether or not they fit. I'll present the data, you'll comment, and that will be that. Today, we get the final say on Ryan Church. You can check out the previous closing arguments on Reed Johnson and Marlon Byrd.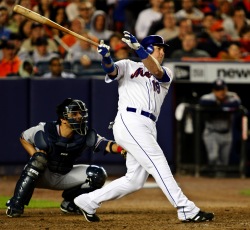 Just a few years ago, Ryan Church looked like a budding star. In 2005, his first full season in the big leagues at age 26, he hit .287/.353/.466 in 301 PA, despite battling multiple injuries. These included a day-to-day shoulder issue, a ribcage injury that caused him to miss 16 games, and a toe injury that forced him to miss 15. Time missed due to injury would become a major theme in Church's major league career.
Despite his successful 2005 campaign, the Nationals started him in AAA for the 2006 season. That ended quickly, and Church hit fairly well in his first 78 plate appearances. The only thing he didn't do, really, was hit singles. His .215 average must have stuck out to the Nats, because they demoted him on May 20, despite his .346 OBP and .477 SLG. Of the 14 hits he amassed in that short stint, eight went for extra bases.
The Nats recalled him again after the All-Star break, and this time Church hit his way into a more prominent role. In 152 plate appearances he posted a .305/.376/.550 line, sending half of his 40 hits for extra bases. Best of all, he got through the season without injury. In two partial major league seasons, Church had hit .282/.359/.491 in 531 plate appearances. His BABIP was a bit high, at .350, but that's not too uncommon for a high strikeout player.
(While Church toiled in the minors after his 2006 mid-season demotion, the Yankees actually expressed interest in him. While Church would have been a decent addition at the time, I think everyone was more than pleased with Abreu.)
In 2007 Church would get his chance, and he responded well. He missed just two games due to injury, and racked up 530 plate appearances, hitting .272/.349/.464. That was good for a .351 wOBA, 116 wRC+, and a 114 OPS+. In other words, solidly above average. His power fell a bit, from a .250 ISO to .191, but that's still a good mark. Apparently, though, the Nationals had seen enough, shipping Church and catcher Brian Schneider to the Mets for Lastings Milledge.
It appeared Church would continue his hot hitting ways in New York. He got off to a torrid start in 2008, hitting .311/.379/.534 in 183 plate appearances through May 20. But then his head collided with Yunel Escobar's knee in the ninth inning of the second game of a doubleheader. It was the second concussion Church had suffered that year — the first came in Spring Training when he and teammate Marlon Anderson ran into each other while tracking a fly ball.
Even though it was his second concussion in two months, and even though he had to visit a doctor after the game, Mets manager Willie Randolph used Church as a pinch hitter the very next day. He actually pinch hit three times in the four days following the Escobar incident. Church tried to return full-time at the beginning of June, but apparently couldn't handle it. After striking out three times in four at-bats on June 5, Church missed the next 19 games with post concussion issues. He tried to come back in July, but that experiment ended after five games, and he missed the next 41.
Since then Church just hasn't been the same player. He finished the 2008 season horribly, hitting .219/.305/.307 in 128 plate appearances. An off-season of rest didn't bring him back to form, as he hit .272/.328/.352 through May 22, when he injured his hamstring. He kept a consistent line upon his return, and eventually Omar Minaya traded him to the Braves for Jeff Francoeur. He hit better in his new home, .260/.347/.402 in 144 plate appearances, but nothing approaching his 2006, 2007, and beginning of 2008 seasons. The Braves cut loose Church on December 8.
On the plus side, Church has demonstrated that he can hit. From 2006 through May 22, 2008 he posted solidly above average offensive numbers. He also plays average to above average defense in the outfield — above average at the corners, which is what the Yankees seek. His strikeout rate historically is a bit high, but he still hits for a good average. I'm not sure if it means anything or it's just an outlier, but Church drastically reduced his strikeout rate in 2009, dropping it nearly 10 percent from 2008.
On the negative side, we never know if he'll be the same again after the two concussions. That the Braves, who could use some outfield help, cut him loose makes that even more doubtful. Another area of concern, at least as it involves the Yankees, is his platoon split. They already have the lefty Granderson in center field, so in order for Church to make sense he'd have to hit about equal against lefties and righties. But, as is the case for many lefties, he shows a large split, .813 OPS vs. righties in his career and a .700 OPS against lefties.
For another team, Church might be worth a gamble. He has the ability to hit and field well, but it's unknown whether he can actually handle it. Given that uncertainty and his platoon splits, however, he doesn't appear a good fit for the Yankees.
So now, whenever a rumor surfaces involving Church and the Yankees, we can refer back to this post and its comments. Have your final say now.
Photo credit: Ray Stubblebine/Reuters