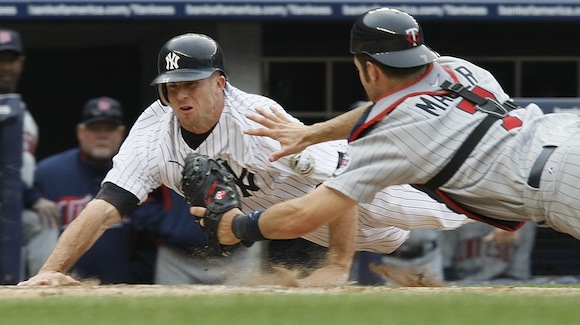 Brett Gardner tries to race Joe Mauer to the plate. (AP Photo/Kathy Willens)
Following the 2005 season, the Yankees knew they had a center field problem. Bernie Williams, due to the destructive nature of age, could no longer man his long-term position, and having passed on Carlos Beltran a year before, the Yankees were facing a season without a set center fielder. Sure, Johnny Damon was a free agent, but the Yanks weren't going to proclaim they're desire for Damon less they give up some leverage.
Enter Bubba Crosby. In 2003, the Yanks acquired Crosby along with Scott Proctor from the Dodgers for Robin Ventura, and for parts of 2004 and 2005, he served as the Yanks' fourth outfielder. Following the end of the 2005 season — an end brought about in part because of an outfield collision — Crosby had a career line in New York of .232/.266/.318 with an OPS+ of 55, but Brian Cashman said the Yankees were willing to start the season with Crosby in center field.
It was, of course, a bluff and an obvious one at that. Crosby couldn't hit a lick, and he certainly wouldn't be starting in center field for the Yanks. A few weeks later, right before Christmas, the Yanks signed Damon, and Crosby would suffer through just 96 more Big League plate appearances before calling it a career. Cashman's threat never came to be.
Fast forward to today, and many commentators are calling the Yanks' commitment to Brett Gardner a version of Cashman's Bubba Crosby threat. This time around, Johnny Damon has priced himself out of the suddenly stingy Bronx, and although it seems as though he could return on a one-year deal worth approximately $5-$6 million, Boras and Damon would have to concede a big defeat to do that. So with Melky Cabrera now in Atlanta, the Yankees are looking at Brett Gardner as either their starting left or center fielder with Curtis Granderson filling the other position. The Yanks will try to find a right handed platoon partner — probably a Reed Johnson type if not Johnson himself, as Joe said earlier — and after that, the roster will be set.
So up in arms are those who want an All Star at every position. Up in arms are those who see Bubba Crosby in Brett Gardner. Reality looks quite different. Crosby was a 29 year old with no value. He had put up a combined -0.7 WAR in his first two seasons in the Bronx and had shown some average defense. He had no real Minor League pedigree and wasn't a prospect.
Brett Gardner is a different story. Throughout the Minors, he's shown the ability to get on base, and while he hasn't flashed much power, we can't just ignore a .389 Minor League OBP. Last season, he hit a respectable .270/.345/.379 with 26 stolen bases in 31 attempts. He has a career WAR of 3.2 and has been an above-average defender in center and left in his young playing career. On the cusp of his age 26 season, he should improve and be at least adequate in 2010.
In the end, we won't know until after the fact if Gardner will amount to much. He may just be a more valuable fourth outfielder/pinch runner extraordinaire. For now, he's the Yankee left fielder, and there's nothing wrong with that. He'll give the team some value, and if we know what to expect, he just might exceed our expectations. With a power threat in center, the Yanks don't need a traditional left fielder. They need an average bat and a good glove. Gardner as we know him now fits that bill to a tee.