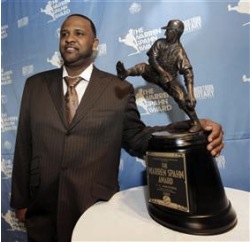 On Tuesday night the Oklahoma Sports Museum honored CC Sabathia with the Warren Spahn Award, given to the best left-handed pitcher in baseball, for the third straight year. Created in 1999 and handed out annually, the award has seen just five winners. Randy Johnson won the first four years, Andy Pettitte took it in 2003, Johan Santana won it when he won his Cy Young awards, 2004 and 2006, and Dontrelle Willis won in 2005. The story of the night, however, was not the award itself, but rather how Sabathia handled the pressure of moving to New York.
Jeff Latzke of the Associated Press gathered some quotes from Sabathia about his transition from the smaller markets of Cleveland and Milwaukee to baseball's biggest stage. Good guy that he is, CC credited his teammates for all the support they provided.
"It takes a lot of pressure off when you play with great players," he said. "Just being around those guys and them having experience of being in the postseason and being on a championship run, it definitely gives you a calming feeling to be able to be around those guys every day and know what it feels like to win a championship." He then added, "Every game I started this year, I didn't feel like I needed to go out and throw a shutout or go out and be perfect. Just keep the game close, and hopefully my team is going to score enough runs to win."
Intuitively it makes sense that a big-time pitcher would face less pressure on an offensively charged team. A $100 million contract might buy you and your family anything you want, but it can't buy you a break with your new team's fan base if you don't live up to the deal. Still, there's no way to actually prove the calming effect of a 900-run offense. We'd have to play mock psychiatrist, and I'm just not interested in that game.
Still, to explore this a little deeper, look at Mike Hampton, baseball's second $100 million pitcher. He headed to Colorado in 2001 after two stellar seasons with the Astros and Mets. The Rockies offense that year scored 923 runs, leading the NL by 76. They OPS'd .837 as a team, .035 higher than the next highest. Yet Hampton posted, by a run and a half, the worst season of his career, pitching 203 innings to a 5.41 ERA.
(Of course, that Rockies team didn't quite have the experience the 2009 Yankees had, but again I'm not trying to prove or disprove Sabathia's statement. Just looking at other similar situations.)
Then look at Kevin Brown, baseball's first $100 million man. He didn't quite repeat his stellar 1998 after the Dodgers signed him for the 1999 through 2005 seasons, but he still managed a 3.00 ERA, good for a 143 ERA+ as offense flourished in baseball. His team, however, scored just 793 runs, 17 below league average.
Yet while Brown and Hampton don't conform to the idea that a high powered offense helps calm a pitcher, the two $100 million pitchers prior to Sabathia do. Johan Santana moved from small market Minnesota to big market New York in 2008 and lowered his ERA by 0.80 runs to 2.53. He also led the league in starts. The Mets offense was third in the NL in runs that year. Barry Zito, who made the move a year earlier, saw his ERA inflate by 0.80. The Giants had the second worst offense in the league that year.
I'm sure that in some way, having a powerful offense full of experience players helped ease Sabathia's tension as he took the mound early in the season. How much it affected his pitching, however, we'll never know. I'm fine with that. All we do know is that after a slow start to the season Sabathia pitched as well as we could have reasonably expected. He appears ready to do it again in 2010.
"I'm itching to get to spring training, itching to get started, itching to see the guys and just try to do it again." More excellent words have never been spoken.
Credit: AP Photo/Nate Billings