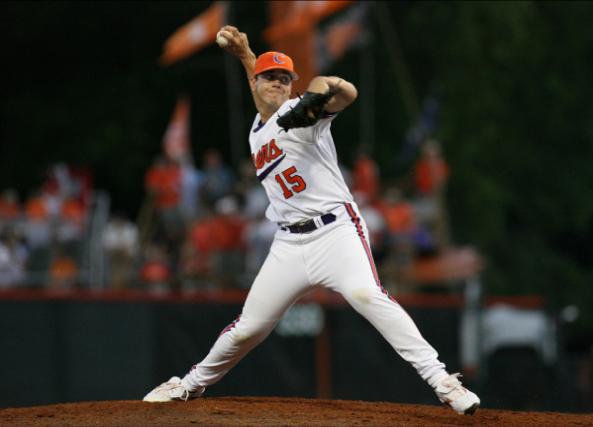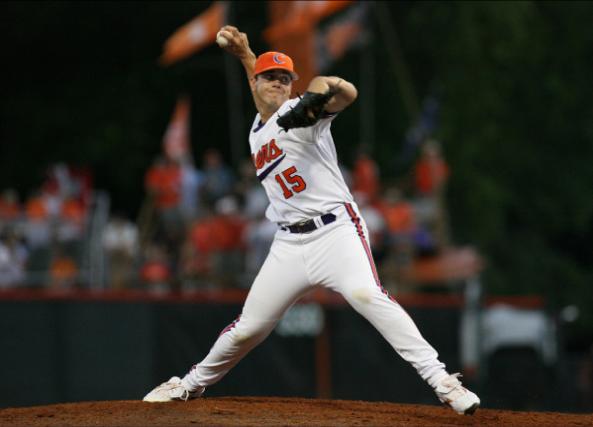 Graham Stoneburner | RHP
Background
Stoneburner grew up in Richmond, Virginia, not far from the talent hotbed that produced players like Ryan Zimmerman, David Wright, Justin Verlander, and The Uptons in recent years. He lettered in baseball all four years at Mills E. Godwin High School, though he didn't explode onto the prospect scene until his junior year, when he posted a 0.21 ERA with 74 strikeouts in just 43 innings, not to mention three homers and a .313 batting average. Stoneburner was named First Team All-Metro and Second Team All-District as a junior, and was expected to garner consideration for the top two rounds of the 2006 draft with a strong senior season.
Stoneburner never got a chance to pitch as a senior, because a stress fracture in his back kept him off the mound and ultimately off draft boards. No one took a chance on a pitcher with a fractured vertebra even though Baseball America ranked him as the 71st best draft prospect in the nation, so Stoneburner followed through on his commitment to Clemson. Expected to compete for a weekend rotation spot as a freshman, Stoneburner tore his ACL during a January workout and had to take a medical redshirt.
Finally healthy, Stoneburner was able to take the mound and pitch competitively for the first time in almost two years as a redshirt freshman in 2008.  He led the Tigers in starts (14, he also made two relief appearances) and wins (6) despite a 5.55 ERA and allowing 78 hits and 21 walks in 71.1 innings, with just 52 strikeouts. Stoneburner two-hit N.C. State early in the season for Clemson's first complete game shutout in four years, and was named ACC Pitcher of the Week for his effort. After the season, Stoneburner headed to the prestigious Cape Cod League for the summer, where he put up a 2.93 ERA and a 30-12 K/BB ratio in 30.2 innings covering seven starts for the Hyannis Mets.
Following his strong showing on the Cape, Baseball America ranked Stoneburner as the 58th best college prospect overall for the 2009 draft, and many expected him to be one of the Tigers' top starters as a redshirt sophomore. Instead, he bounced back and forth between the rotation and bullpen on a deep staff that featured 13 pitchers with sub-4.00 ERA's. In seven starts and 13 relief appearances, Stoneburner struck out 71 and walked just 19 in 64 innings, good for a 3.52 ERA and a team leading seven wins. He appeared in two of the team's six postseason games, tossing 4.2 scoreless innings of relief against Tennessee Tech to get a win in the Regionals, then taking the loss after allowing three runs in two innings of relief against Arizona State in the Super Regionals. Clemson's season ended with a loss the next day.
Baseball America ranked Stoneburner as the the seventh best prospect in the state and 180th best prospect overall just before the draft. Because he had added leverage as a draft-eligible sophomore (even as a redshirt), Stoneburner fell to the 14th round of the 2009 draft, at which point the Yankees made him the 435th overall pick with their 13th selection. He didn't agree to a deal until the day before the August 17th signing deadline, when he received a well-above slot $675,000 bonus.
Pro Debut
Stoneburner appeared in just one game after signing late, allowing one hit while striking out two in a one inning stint with Short Season Staten Island in early September. He participated in Fall Instructional League after the season, where he reportedly turned lots of heads with his showing.
Scouting Report
Despite being somewhat undersized at 6′-1″ and 190 lbs, Stoneburner offers premium arm strength and life on his fastball. He's shown the ability to sit at 94 with boring action in on righties with his heater, and can ramp it up even more when working in relief. His two secondary pitches – slider and a straight change – are average at best, though the changeup shows potential of being better. The biggest problem is consistency, as Stoneburner will pound the bottom of the zone relentlessly one day, then struggle to put the ball over the plate the next. After losing two crucial years of development due to injury, it's just a matter of getting reps with pro instruction.
Stoneburner's delivery is simple, easy to repeat,  and somewhat deliberate, which bodes well for future arm health. The arm action is just a bit long in the back, which will always hinder his command somewhat, but nothing extreme. He's a very good athlete who ran track all throughout high school, and it allows him to field his position well and make adjustments mid-game. Other nuances like holding runners are things that will improve with experience.
You can see Stoneburner's scouting video here.
2010 Outlook
Depending on what the Yankees long-term plan is for Stoneburner, they could opt to send him to Low-A Charleston to work as a starter, or be aggressive and have him work in relief with High-A Tampa. If they do the latter, a David Robertson-like ascent up the ladder isn't out of the question.
My Take
I remember Stoneburner from the 2006 draft, when he was rail-thin and sitting high-80's with his fastball. He was an interesting guy to keep an eye on until the back injury knocked him out, however he added some weight and picked up some big time velocity in college and became an impressive prospect. Stoneburner has one of the best pure arms from the Yanks' most recent draft haul, if not the best. Had he been about four inches taller, he would have garnered much more early round consideration. He doesn't quite have the arm slot for it, but there's a chance the Yanks' will tinker with it and try to teach him a Nardi Contreras curveball. If he picks that up to give him a second pitch he's comfortable throwing at any time in any count, then holy cow, who knows how good he could be. You can't teach arm strength, folks.
Photo Credit: Mark Crammer