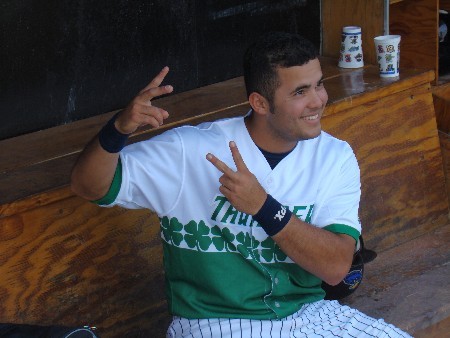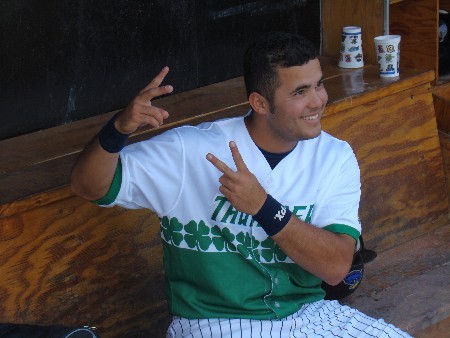 Jesus Montero | C
Background
Montero grew up in Guacara, Venezuela, not far from the capital of Caracas. He was signed by Carlos Rios, the Yankees' director of Latin American scouting, on the first day of July 2nd international signing period in 2006 for $2M, however the deal was later negotiated down to $1.65M. Rumors popped up that Montero lied about his age, however those were eventually shot down and the reason for the bonus cutback has never been officially disclosed. For what it's worth, Rios was fired two years later for his role in a bonus skimming scandal, in which he forced several players to kick back some bonus money.
Pro Career
A year after signing his first professional contract, Montero made his debut with the rookie level Gulf Coast League Yankees in 2007, hitting .280-.366-.421 with three homers and six doubles in 33 games, 23 as a catcher. He led the charge as the GCL Yanks took home the league championship by driving in six runs thanks to a 7-for-17 performance with three doubles and a homer in four playoff games. Playing at home in Venezuela after the season, Montero hit .358-.453-.630 with four doubles and six homers in 23 winter ball games.
Prior to the 2008 season, Baseball America ranked Montero the sixth best prospect in the organization. The Yankees challenged him by assigning him to a full season league as an 18-year-old, and Montero responded by leading the South Atlantic League with 171 hits and finishing in the top ten in runs scored (86), doubles (34), runs batted in (87), and total bases (258). His 17 homers were good for twelfth in the league, and he also appeared in the Futures Game. With fellow catching prospect Austin Romine also playing for the River Dogs, Montero spent just 71 of his 132 games played behind the dish. Following the season, Baseball America rated Montero as the club's second best prospect.
Sent to High-A Tampa to begin the 2009 season, Montero lasted just 48 games there before being promoted to Double-A Trenton. In his short time with Tampa, he hit a whopping .356-.406-.583 with eight homers in 180 at-bats, catching 26 games in another platoon with Romine. As a teenager in the Double-A Eastern League, Montero hit .317-.370-.539 with nine homers 167 at-bats, catching 33 of 44 games. He was named to the Eastern League All Star Team and again participated in the Futures Game, though his season was cut short when he suffered a broken middle finger on his left (glove) hand in early August while catching. Overall, Montero hit .337-.389-.562 with 17 homers in 92 games in 2009.
After the season, Montero again played winter ball in his native Venezuela, though he struggled to shake off the rust and played in just nine regular season games. Every reputable scouting publication named Montero as the organization's top prospect following the season, plus John Manuel of Baseball America called him the minor's best hitter while Keith Law said he was in the top ten.
Scouting Report
The first thing everyone talks about with Montero is his bat, and rightfully so. He has an uncanny ability to get the fat part of the bat consistently on the ball, and he can go out and get pitches on the outer half just as well as he can turn on stuff inside. Montero's power is truly top of the line, and while his swing isn't textbook – he gets out on his front foot a little early – his ability to recognize pitches and raw strength still allow him to hit everything with authority, even breaking balls when he gets out in front. Montero's bat is truly special; it's not crazy to expect him to hit around .300 with 30 homers or so annually.
As good as his offense is, Montero's defense is a major question mark. At 6′-4″ and 225 pounds and just 20-years-old, he's already too big to catch, and he lacks the athleticism to make up for it. While he works hard at his craft and has improved his throws, he's not long for the catching position. Given his general lack of athleticism, first base is next logical option. A corner outfield spot could also be a possibility, though he's sure to be a liability out there. Given his bat, the team will find a way to get him in the lineup every day.
Here's a clip of Montero taking batting practice, and another of him working behind the plate in Spring Training.
2010 Outlook
Farm director Mark Newman has already confirmed that Montero will start the 2010 season as the every day catcher for Triple-A Scranton. There's a slim chance he hits his way into a spot with the big league club as an injury fill-in at some point, though that's unlikely. A September call-up is far greater possibility.
My Take
Well, I'm always skeptical of prospects fresh off the international market, especially when they come with the purported hitting ability Montero possessed when he was signed. There's just too much bad information out there on those players, but Montero is one of the rare players that has made good on those scouting reports. It'll sound like hyperbole, but Montero is the organization's best hitting prospect since Derek Jeter, and the best power hitting prospect since who knows when. The only problem is finding a spot to play him, but that'll work itself out. It always does.
Photo Credit: Mike Ashmore