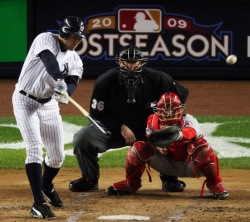 Fans who want to see Johnny Damon back in pinstripes got a bit of good news last night. In a radio interview, new Padre Jerry Hairston Jr. said that the Yankees didn't make him an offer because they're "waiting on Damon's price to come down." Brian Cashman quickly refuted the report, but that's to be expected. After hearing the interview a number of reporters surely placed phone calls, and Cashman is under no obligation to divulge the team's strategies. While Cashman went into deny mode, I don't think Hairston's comment was inaccurate.
As we've heard ever since the Javy Vazquez trade, the Yankees plan to wait out the market and find the best value in another outfielder. As one Yankee official said in late December, "We'll sign an outfielder between now and spring training." The market for the Yankees' target players hasn't moved much since then, hence the lull in activity. Had teams started to make serious plays for guys like Reed Johnson and Xavier Nady, perhaps the Yankees would have made a move by now. But as the market lies dormant, so should the Yankees.
The advantage of waiting in this situation is that they can continue to monitor their presumed top target, Johnny Damon. He's the best player left on the market, and surely the Yankees would rather bring him back than sign one of the other remaining outfielders. But, as Hairston's quote suggests, Damon is still asking too much. My question to that: what, exactly, does Johnny think he can get in this market? And, furthermore, what team will pay it?
The teams interested in Damon's services have dwindled in the past month. The Giants signed Mark DeRosa, Aubrey Huff, and Bengie Molina, and are likely tapped out. The Braves might be interested, but they might not, depending on who you ask. The Tigers have denied interest, and with good cause. They already have DHs at their corner outfield spots — Magglio Ordonez and Carlos Guillen — and so with Damon would have three corner outfielders who play poor defense, surrounding a rookie center fielder. The Mariners have $10 million, but also have two set-in-stone outfielders, plus Milton Bradley and Ken Griffey, Jr.
As Dave Pinto noted yesterday, "a team with a hole in leftfield or designated hitter could do a lot worse than offering Damon $7 to 9 million for a year of his services." True, they could do worse than Damon as a player, but at that price he's not nearly as appealing. With so few teams actively interested in his services, $7 to $9 million, in a pure market environment, appears too steep. But, since Damon doesn't want to take a pay cut, he'll continue to wait. It might be a while before he gets anything close to what he thinks he's worth.
So where does that leave Damon? Tyler Kepner wrote an excellent article comparing Damon to two players who found themselves in similar situations: Kenny Lofton and Kenny Rogers. Funny, too, because they're both former, reviled Yankees. Lofton abruptly retired after the 2007 season when he didn't receive an offer he deemed worthy. Rogers turned down a two-year, $10 million offer from the Rangers, eventually signing on for $2 million with the Twins after another former Yankee, Eric Milton, got hurt.
Reports circulated yesterday that Damon was contemplating retirement, but that's bull. In fact, there was no direct quote attributed to it, never mind the dubious source, a "friend" of Damon. Plus, as Kepner notes, Damon himself said that he wants to play. So that leaves him with Rogers's situation, waiting until something pops up in spring training. That might cause a team to overpay a bit, but I doubt it would land him a multiyear contract. That ship, it appears, sailed when he turned down the Yankees' two-year, $14 million offer.
As the last big-name free agent left on the market, Damon will garner much attention in the weeks between now and spring training. We're bound to hear conflicting reports, and much of that will be pure noise. What we do know, however, is that the Yankees feel no urgency to act, and that puts them in a position to bring back Damon on their terms. Whether they will remains to be seen. But I do think that the more time passes, the better chance Damon re-signs with the Yanks.
Credit: AP Photo/Peter Morgan