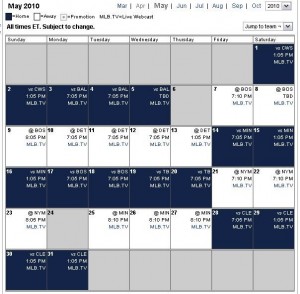 In the middle of September, Major League Baseball released its preliminary schedule for 2010, and at the time, we had some fun dissecting the Yanks' slate of 162. With the quirks of the scheduling came our requisite complaints: too many early games against Boston, too many illogical road trips and too many away games in April. On the other hand, the Yanks do get to play the Astros and Diamondbacks while the Red Sox face the Giants and Rockies, but I digress.
Today, baseball unveiled the preliminary start times for the 2010 season, and the Yanks' official schedule has been updated as such. The schedule is available for download and personal calendar integration in numerous forms right here. The option to add the Yanks' schedule to Google Calendar option is fantastic for those of whose lives are on Google, and the Outlook/iCal integration is an added perk this year.
Although the broadcast schedules have yet to be announced, we can glean some information from the start times. As we know, the Yanks and Red Sox will square off on Sunday night at 8 p.m. On average, the temperature in Boston on April 4 at 8 p.m. is in the low 40s. Ninja Cano will make his return. The next two games of the season, also in Boston, are night affairs, but the Yanks' first two games at hand on Tuesday, April 13 and Wednesday, April 14 are both at 1:05 p.m.
In May, the Yanks will be the ESPN team of the month. With a weekend series from May 7-9 and a trip to Citi Field two weekends later, ESPN will broadcast both of the Sunday night games from those series, and FOX will probably take the May 8th game with a TBD start time.
The June TV highlights will be the Yankees/Joe Torre reunion in Chavez Ravine. Both of the weekend games for the Bombers' trip to Los Angeles currently feature TBD start times, and I'd put money on a FOX/ESPN weekend special. Considering the media markets and the emotional story lines, those games are primed for a ratings bonanza. The week before that trip west, the Mets come to the Bronx, and both of those games will probably be on national TV as well. May and June will feature a lot of Joe Buck, Tim McCarver, Joe Morgan and Jon Miller.
After that, only the remaining series against Boston are bound to be on TV. Otherwise, the Yankees have done a good job avoiding weekend night games. No home game on a Saturday starts later than 4:05 p.m., and although many Saturday road games are at night, I appreciate the Yanks' efforts in schedule afternoon affairs.
So that's that. Now, we just have to wait until Opening Day. April 4, 8:05 p.m. Mark your calendars.