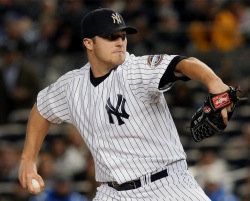 Managers have changed the way they use their bullpens over the last 25 years. In that time the percentage of non-save relief appearances that last at least one inning has increased 20 percent, from about 25 percent in 1984 to about 45 percent in 2009. Andy chronicles this trend at the Baseball-Reference blog. Late-inning specialization surely has something to do with the shifting numbers, with multi-inning appearances declining in the same period. Over the past few years we've been accustomed to analysts talking about the strength of a bullpen in terms of its setup men bridging the gap to the closer.
Specifically, we've seen teams employ the three-headed monster scheme. The 2003 Astros had Brad Lidge and Octavio Dotel setting up for Billy Wagner. In 2004 Joe Torre used Paul Quantrill and Tom Gordon extensively in setting up Mariano Rivera. These were all one-inning roles, with the pitcher entering the game in his specific inning, if the game was within three runs, a save situation. Analysts called it shortening the game. Have three lights out one-inning relievers, the idea went, and you made it a six-inning game.
Beyond the obvious — no pitcher, not even Mariano, is perfect — this bullpen scheme has a flaw. It assumes those three pitchers can pitch every important endgame. As Torre learned in 2004, relievers wear out, especially when the rotation averages under six innings a start. In order to properly construct this endgame, a team needs at least four reliable arms for the back of the bullpen so it can spread the load more evenly. The 2009 Yankees appear to have just that.
As it currently stands, Phil Hughes or Joba Chamberlain will act as Rivera's primary setup man, which essentially means pitching the eighth. But, again, the Yankees will encounter many situations where they lead by three or fewer runs in the eighth inning. Joba Hughes can't pitch in all of them. That means the seventh-inning man has to step into the role. But the seventh-inning man figures to face just as many within-three-runs situations. What happens then?
In addition to Joba Hughes setting up Rivera, the Yankees will carry two other highly regarded relievers, David Robertson and Damaso Marte. Either can pitch the seventh and even the eighth if needed. It gives Joe Girardi more options, allowing him to rest his best guys and make sure they're not pitching with tired arms. Al Aceves helps here, too, as he showed the ability in 2009 to take the ball in a setup role.
Thankfully, this won't be a big worry for the Yankees this season. Different people have different takes on Joe Girardi's bullpen management tactics, but I think most agree that he does spread the load evenly. As in the second half of last season, he'll have the tools to achieve this in 2009. Not only do the Yankees have five quality guys in the back of his bullpen, but also swingmen like Sergio Mitre and Chad Gaudin along with a handful of guys at AAA waiting for a shot. Bullpens are volatile, and anything can happen, but as it stands now the Yanks don't need to concern themselves with bullpen construction.
Photo Credit: AP Photo/Elise Amendola