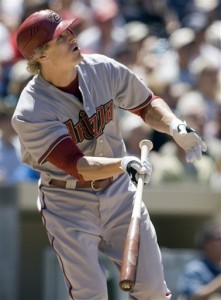 Just last night I used this space to make a case for the Yankees potentially acquiring Conor Jackson, and now I'm going to write about another Diamondbacks' outfielder, Eric Byrnes. Arizona designated the fan favorite for assignment yesterday, signaling the end of one of the most ill-advised contract extensions in recent memory. The deal was so absurd at the time it was signed that it almost had to be ordered from ownership, who was probably trying to use Byrnes' popularity to keep fans around following the team's recent run of futility.
Let's make one thing perfectly clear right now. I am in no way advocating a trade for Byrnes, nor am I saying the Yankees should claim him on waivers as part of the DFA process. There is one, just one scenario in which the Yankees should look at Byrnes, and that's if the D-Backs' are unable to trade him within the ten day window, he clears waivers, and they release him. That's the only way, period. In that case, Arizona would be on the hook for Byrnes' entire $11M salary in 2010, less the pro-rated portion of the Major League minimum, which is what whatever team signs him would have to pay. That's it, that's the only way the Yankees should even think about bringing Byrnes aboard.
So why should the Yanks even have interest in Byrnes in the first place? Well because they're looking for a righty hitting outfielder for under $2M, and Byrnes fits both criteria. He's been limited to just 482 plate appearances over the last two seasons because of hamstring issues and a broken hand suffered on a hit by pitch, during which time he hit just .218-.271-.382. Certainly it's nothing to get excited about, and any team that picks him up would be banking on Byrnes returning to his pre-2008 levels, when he was moderately productive.
Prior to the injuries and extension, Byrnes was a .268-.330-.452 hitter in his five full seasons, good for a perfectly average OPS+ of 100. However, he excels at hitting lefties, posting a .284-.354-.511 batting line against them during his career, and the small sample size data from 2008 and 2009 actually drags those numbers down a bit. Byrnes isn't going to walk a ton (236 unintentional walks in 3,170 career plate appearances) but he won't strikeout a ton either (16.7% of his plate appearances have ended with strike three), and in general we know what he is. He's at best a league average offensive performer, perhaps less now as the hand injury and hammy trouble has presumably slowed him down.
Defensively, Byrnes has been superb in left and center fields throughout his career, posting +5.6 and +11.1 UZR/150's, respectively. Jeff Zimmerman's age-adjusted UZR projections have him at +5 and +4 UZR in those spots next year, though the Fan's Scouting Report isn't as kind. You probably already know that Byrnes is a complete nut job, and will run into pretty much anything on the field to make a play. For the sake of argument, let's assume he's now slightly below average defensively in left following the leg issues.
On the bases, Byrnes been an extremely successful basestealer, swiping 128 bags in 151 attempts (84.8% success rate, which is amazing). Baseball Prospectus' stats say he's been worth just about 4.5 runs on the bases over the last four years in non-SB baserunning situations, which is very good. Again, for the sake of argument, let's assume Byrnes is just a league average baserunner now because of the injuries, however remember that running from bag-to-bag has more to with instincts that just raw speed.
So, after all that, we're saying that Byrnes is a bit below average both offensively and defensively, and just about average on the bases. That's basically a one win player, which has a lot of value at the league minimum. If Byrnes were to rebound somewhat, he might even be a bit of steal since the D-Backs are footing the bill. He'd be a fan favorite, and give the Yanks a bit of insurance in case Brett Gardner and/or Jamie Hoffmann poop the bed in Spring Training. And the best part of all is that there's zero strings attached. The Yanks could sign Byrnes, give him a nice long look in camp, and if they don't like what they see, they can cut him loose with zero consequences. There's no risk at all, and frankly I don't see why anyone would be against bringing Byrnes about under those circumstances.
Photo Credit: Chris Park, AP