In early 2007, just as RAB came on the scene, Andrew Brackman dominated draft talk. He was a projected Top 5 pick, and with good reason. The 6'10" dual-sport player sported not only a mid-90s fastball, but a curveball to go with it. He was raw at the time, having thrown only 70 college innings, but the potential was certainly there. He probably would have gone Top 5, too, if there hadn't been injury concerns during his final college season that led to him sitting out games towards the end. The pre-draft rumors had him needing Tommy John surgery, so down the first round he slipped.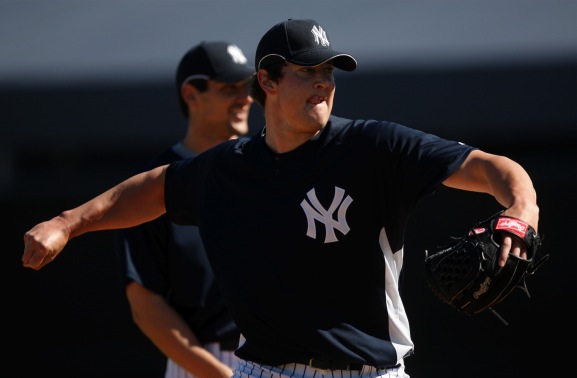 Photo credit: AP/Julie Jacobson
The Yankees, picking at No. 30 after a huge 2006 season, jumped on Brackman. Of course, they probably preferred Rick Porcello, who also tumbled through the first round, but the Tigers took him two picks prior. So the Yankees, seeing no one with nearly the ceiling of Brackman left on the board, took the plunge. It took a major league deal and a year of waiting for him to recover from TJS, but at the start of 2009 Brackman looked ready to start his professional career.
His first season, as we saw, did not go very well. Through his first 19 starts he pitched just 85.2 innings, or about 4.5 innings per start. His 6.72 ERA was certainly a concern, but not nearly as big as his 6.72 BB/9. In June and July he had more walks than innings pitched. A conversion to the bullpen in late July seemed to help, as Brackman's final 21 innings went a bit better, as he allowed 17 hits and walked 12 to 24 strikeouts.
Now Brackman faces a huge challenge. As he moves up the ladder to Advanced-A Tampa, he must prove that he's made adjustments. The Times's new Yankees beat writer Ben Shpigel profiles Brackman, talking to Charleston pitching coach Jeff Ware in addition to farm director Mark Newman and the pitcher himself. They talk about comfort level and how Brackman might have been overthinking his mechanics. As Pitching guru Nardi Contreras said, "everything was out of whack." Sounds about right.
Chances are, Brackman won't turn into the ace pitcher the Yankees envisioned in 2007. That's not just because of his problems last season, though. A pitcher like Brackman presents an enormous gamble, and those high-risk, high-reward moves have a bigger chance of busting than not. The Yankees wanted to take the risk, wanted the upside of a Top 5 pick, knowing they might not get one for another decade or two. It's easy to look back and say the Yanks messed up, but I think they made the right call back in 07.