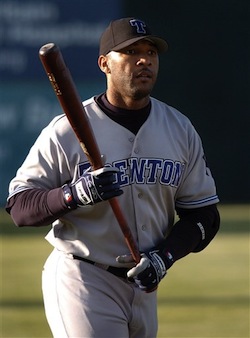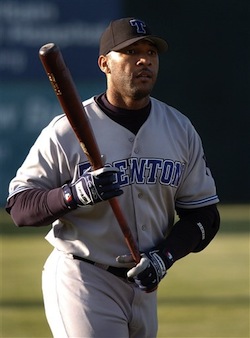 If the 2010 season were to start today, the Yankees' bench would be thin on both power threats and right-handed hitters. Eric Hinske, a lefty, has departed for Atlanta, and the bench will feature some combination of Randy Winn, Francisco Cervelli, Ramiro Peña, Jamie Hoffmann and Brett Gardner. If Winn is the most feared bat off the bench, opposing pitchers will yearn to face those pinch hitters.
One player is still out there, though, who could give the Yanks some pop off the bench. As I was browsing MLB Trade Rumors' unsigned All Star team post this morning, my eye wandered to the honorable mentions where Gary Sheffield's name stuck out. Other than Johnny Damon, Sheffield is the biggest power threat among those still looking for a job, and I wonder if the Yanks would consider a reunion. It would behoove the team to do so.
For many, just a mention of Gary Sheffield's name is enough to raise some eyebrows. The notoriously outspoken player left the Yankees in a huff when he was traded for not much of anything following the 2006 season. Although his teammates liked him, he and Joe Torre had a rocky relationship, and Sheffield seemed to think he always deserved more than he got. Yet, he could mash along with the rest of them. During his three seasons on the Yanks, he hit .291/.383/.515 with 76 home runs and 269 RBIs.
Yet, Sheffield put up those numbers nearly half a decade when he was obviously much younger than he is today. The upcoming 2010 season will be his age 41 year, and that lethal bat with that intimidating waggle has slowed down a bit. It hasn't, however, slowed down as much as one might think. Last year, in part-time duty with the Mets, Sheffield hit .276/.372/.451. His wOBA was a very respectable .359, and he can still get on base and hit for power. Offering Sheffield a $1-$2 million take-it-or-leave-it deal wouldn't be a waste of money, and landing him for a minor league deal with a Spring Training invite would be even better.
There are, of course, some red flags, and Steve at TYU addressed them a few weeks ago when he advocated for a Gardner/Sheffield outfield platoon. First, the idea that Sheffield should do anything other than pinch hit or DH should be off the table. His defense — never great in the first place — has been abysmal of late. In 46 games in left for the Mets, he had a -11.6 UZR. Second, as Steve noted, Sheffield wanted to be an every-day player last year. Would he embrace a bench role? At age 41, if he wants to stay healthy and keep playing, he has to.
For the 2010 Yankees as they are currently constructed, a dearth of right-handed bench threats remains one of the team's last spots of weakness. Brian Cashman could do far worse than Sheffield if he's looking to fill it. Whether both sides could overcome their past differences and work out a deal remains to be seen, but it's worth a shot.
Above: Gary Sheffield waits to bat during his 2006 rehab assignment in Trenton. (AP Photo/Jessica Hill)