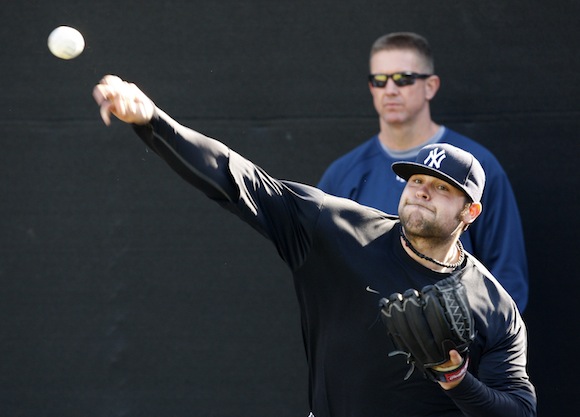 Joba Chamberlain starts his quest to secure the fifth starter spot in the Yankees' rotation. (AP Photo/Kathy Willens)
Early this morning, Joe — RAB's Joe, not the guy in charge of the Yankees — discussed how it will be a quiet spring for the defending World Series champions, and in a way, he's right. When the biggest questions of Spring Training center not around what PEDs the All Star third baseman took but rather over who will be the fifth starter and the 25th man on the roster, the overarching questions aren't too pressing.
Yet, this is New York, and in New York, the sports media will obsess over that fifth starter. Will it portend a career in the bullpen, heir to Mariano, for the young star that doesn't earn a spot after 20 innings in March? Will the guy who isn't starting be The Eighth Inning relief ace? Will reporters and talking heads continue to act as though the 25th man — the not-Johnny Damon of the 2010 team — make or break the Yanks' season?
Of course, these questions won't be answered this spring, but that won't stop everyone with a keyboard from trying to tackle them. I'm sure we'll be guilty of that sin over the next six weeks too. Even with pitchers and catchers on the field in Tampa, it's still a long haul until Opening Day.
With that in mind, something Joe Girardi said to the gaggle of beat writers on Wednesday, struck a chord. Somehow, the Yankees are going to have to make these decisions, and it's nearly impossible to do that based solely upon Spring Training results. It's too early in the year for players to get into their grooves, and most games pit pitchers against a bunch of AA hitters unlucky enough to have to make a long Grapefruit League bus ride.
And so per Mark Feinsand, Girardi had this to say about the fifth starter spot:
"I expect two guys to pitch at a very high level. Will statistics play 100 percent of the decision? No. We'll look at guys, how they're throwing the baseball, and what we feel as an organization and coaching staff is the best for everyone involved. … It is a healthy competition for the fifth starting spot and I love that. I think that brings out the best in people."
That is a word of warning from Joe Girardi about Spring Training. We'll sit here in New York, far from Tampa, and look at how Phil Hughes or Joba Chamberlain perform over 50 or 60 pitches every five days next month. We'll analyze their lines for a hint of who has a leg up, but the real work will be down in Tampa where the eyes on the ground will be looking at process and not results. The Yankees will look at which pitcher has better command of his pitchers, who is dominating and attacking the strike zone, who is mixing and matching and who just looks better suited for a particular role.
In the end, those roles can change. The fifth starter can become the fourth starter very quickly, and that sixth guy can be pressed into service before too much time has elapsed. That's just the nature of pitching in baseball. Today, with a blank slate, anything is possible, but even with that Grapefruit League stat line is looking more robust come the end of March, just remember that it's only Spring Training. Beyond symbolizing the return of baseball after a three-month hiatus, it doesn't really mean that much at all.