Preface
In no way do I believe the Yankees will do this, nor do I think they should. Johnny Damon had an excellent pinstriped tenure that ended with a World Series title. Retaining him seemed like an option, but only if his contract demands fell into the Yankees' desired range. That didn't happen, and the Yankees moved on. While I'd love to see Johnny back in the lineup this year, it's so unlikely at this point that I had to concoct this crazy scenario. As the price for acquiring one year of Damon, it hardly seems worth the trouble.
The set-up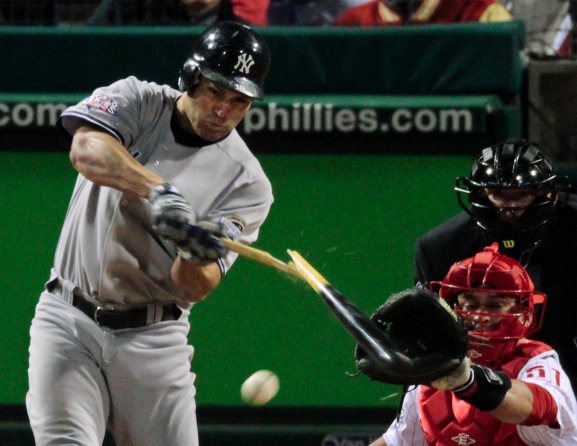 In the MLB Rumors and Rumblings section of his Weekend Update on Baseball Prospectus, John Perrotto mentioned Damon's desire to play for the Rays, citing his nearby residence in Orlando. In the next sentence, Perrotto drops the bomb. "He has not completely ruled out a return to the Yankees, even though they have signed Randy Winn to presumably take his place on the roster." Ignoring the one-for-one replacement of Damon with Winn — and further ignoring the flawed idea of "replacing" production — this is an interesting statement. How could he not rule out a return to the Yankees when it seems everyone else has?
Last week, just after the Winn signing, SI's Jon Heyman wrote a column about the situation between the Yankees and Damon, quoting both Brian Cashman and Damon at length. Both sides expressed the desire for a reunion, but both recognized the obstacles that stood, and continue to stand, in the way. Both also conceded that they could get back together at some point in the future. "You never know," said Cashman. Not the most specific of endorsements, but like any good GM, he wouldn't rule out the possibility if a favorable situation arose.
The scenario
The Yankees have three outfielders who have guaranteed 2010 contracts: Nick Swisher, Curtis Granderson, and Randy Winn. Beyond that they have Brett Gardner, who will make the league minimum and who has two options remaining, and Jamie Hoffmann, whom the Yankees must offer back to the Dodgers if he doesn't make the team out of spring training. By all appearances, the Yankees will use Gardner and Winn in left, doling out their playing time as their performances warrant. Hoffmann, if he makes the roster, would serve as the fifth outfielder and late-inning defensive replacement — perhaps as a pinch runner with Gardner already in the game.
For now, we can discount Hoffmann. I doubt the Yankees will make roster moves to accommodate him. If he plays well enough to earn a spot, he'll get it. If they have another player who can fill his role better, they'll go with that player. That leaves four outfielders, which sounds about right. Winn and Swisher can play both corners, while Granderson and Gardner profile best in left or center. That seems to cover the outfield. So where in the world would Damon fit?
In any return scenario, Gardner would be the odd man out. He not only has an option or two remaining, but he has drawn interest from other teams this off-season, namely the Reds, Padres, White Sox, and Royals. Because any Damon contract would cover just one year, the Yankees wouldn't necessarily have to trade Gardner to open a spot. They could simply start him in the minors and use him to fill in when needed. This makes the Yankees situation a bit more flexible.
The main obstacle in a Damon-Yankees reunion is the same as it ever was. Before acquiring Winn the Yankees had just $2 million left in their Opening Day payroll budget. All of that went to Winn, so unless Damon is willing to play for the league minimum the Yankees would have to free up some salary. Of their players currently under contract, only Chad Gaudin makes sense from a salary standpoint. He'll make $2.95 million to start 2010.
In his column, Heyman notes that Cashman floated "a contract of $6 million with $3 million deferred at no interest." The idea, apparently, is that while the entire $6 million would count against the official Opening Day payroll, Hal Steinbrenner might be open to a deal with deferred money. With around $3 million in savings from dealing Gaudin, presumably for a low-level or low-ceiling minor leaguer, the Yankees could put this offer back on the table. They could go even lower, too, because we haven't seen much interest in Damon since the Winn signing.
Why it makes sense
If Damon hits as well as he did last season, he'll be more valuable than Winn at the plate in 2010. If his defense, as Damon himself says, "was only the first two months, and it involved probably five plays," then perhaps he can play a capable left field. We know that his bat plays well at the Stadium, and that he's a good guy to have in the clubhouse. His speed, while not what it was when he first signed, is still an asset.
Why it doesn't make sense
To list them:
Trading away pitching depth to sign another outfielder doesn't seem like a great idea.
The Yankees seem to like Brett Gardner, probably enough to give him at least a half-season's worth of at-bats in left field.
The chances of Damon replicating his 2009 season remain low. He'll be a useful offensive player, but it's doubtful that he replicates a career year — one in which he slipped considerably toward the end.
Stats and scouts agreed that Damon played poorly in left field last season, so his return to league average doesn't appear likely.
Why it won't happen
Judging from his track record, I don't think Brian Cashman will alter his roster, trading away valuable pitching depth, just to accommodate Damon. They're likely mindful that 2010 Damon isn't 2009 Damon, and that the latter outperformed most reasonable expectations. True, for $6 million, with $3 million deferred, he wouldn't have to replicate his production to justify the contract. But, again, the Yankees would have to make a further sacrifice in order to even think about bringing back Damon. I just don't see them doing that.
Really, this is just a crazy thought based on Johnny not yet ruling out a return to New York. The door might remain unlocked, but it's definitely shut. I doubt the Yankees would go through the trouble at this point. They should be too busy preparing for another championship season in 2010.
Photo credit: Eric Gay/AP