Yesterday, the debate began all over again, as if we hadn't made our arguments a hundred times over. With just one open spot in the starting rotation, either Phil Hughes or Joba Chamberlain will start the season in the bullpen. Ben tackled the topic yesterday, noting how Joba is saying all the right things — and doing them, too, as he's in camp early. What he didn't do is link to a Joel Sherman column about how the Yankees have supposedly already pegged Joba for the pen. He took the idea one step further, into pretty crazy territory.
Why not put both Joba and Hughes in the pen? That would, he claims, make the role of fifth starter even less necessary, because of the Yankees' high-powered offense and, with both young pitchers in tow, their lights out bullpen. He at least admitted that it would hinder the development of either one into a future starter. With Andy Pettitte's and Javy Vazquez's contracts up after this season, the Yankees will need one, if not both, to hit the rotation in 2011.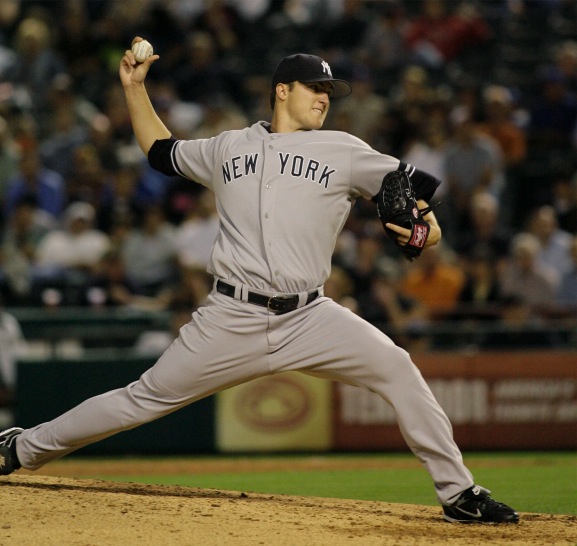 While many of us just wrote off the idea as crazy, Dave Pinto, creative as he is, proposed a different type of idea. What if, instead of using Hughes and Chamberlain as one-inning setup men, the Yankees deployed them as bridges to Mariano unto themselves? In other words, they take over when the starter exits, and they pitch from that point until the ninth. If the Yankees rack up the score late, they could even pitch the ninth themselves, further increasing their innings totals.
In theory, I love the idea. I've long advocated changing the way teams use their bullpens, with a trend towards the multi-inning reliever. Having two pitchers in this role would help, as they could cover most late-inning situations, with the short relievers taking over when the starter goes seven and the game is close. But this is all theoretical. How would this work in practice?
April seems like the best opportunity for this type of bullpen scheme. Pitchers are still getting into the groove, and it seems like starters pitch fewer innings per start in April than any other month. That was true, at least, for the Yankees. Last April the Yankees starters pitched 126.1 innings, out of 197.1 total. That includes Wang's three short starts, so it skews the sample in a way, but if the Yankees use both Hughes and Chamberlain in the bullpen they'll have a fifth starter who, while not as bad as 2009 Wang, still probably won't go shutting out opponents for eight innings.
In nine of the 22 starts, the starter did not make it out of the sixth inning. In an additional three starts, the starter went exactly six innings. These are the opportunities for the super relievers. Either Hughes or Chamberlain would enter in this situation and pitch up to, perhaps including, the ninth inning. As an experiment, let's see how this could have panned out in April 2009, ignoring that some of the starts were made by Hughes and Chamberlain themselves.
Obviously this is a very rough estimate of when and how much they could pitch, and clearly the 2010 innings will not go the same as 2009. Using that as a guideline, however, it appears that in the super relief role, Hughes and Joba could get close to the number of innings they'd get as starters. Not quite to that level — Joba pitched 23 innings in April 2009 — but it would be pretty close. Plus, since they'll prepare in spring training as starters, their arms can probably handle longer stints earlier in the year.
This accomplishes a few things. First, it reduces the need for a 12-man pitching staff. With Joba, Hughes, and Mo covering almost 50 innings in relief, the Yanks shouldn't need four other guys to cover the rest. Second, it allows them both to keep their innings up while also keeping them manageable. It would be much easier to keep Hughes under his innings limit if deployed in this manner. Third, it keeps them ready to fill in if a starter goes down — or if the fifth starter just isn't working out.
Again, this is all theoretical. We have no way of knowing if this scheme can come close to working in practice. Can both pitchers adjust to this usage schedule, pitching two to four inning stints every three or four days? Also, what happens if the Yanks' starters dominate one turn through the rotation? That might mean one inning each for Joba and Hughes over five days. There's plenty of unpredictability in this model, and the Yankees might not favor that for their young starters.
The risk involved probably makes this idea a nonstarter, but it certainly has merits. It allows young pitchers to transition from AAA to the majors without jumping in as full-time starters. It allows teams to more easily manage their innings. It keeps them stretched out, so they can jump into a rotation spot in case of injury. But it also hasn't really been done, at least to my knowledge, in recent years, and we don't know what kind of effect these usage patterns will have on a pitcher's arm. Maybe some small-market team will try this one day. Until then, I doubt a team like the Yankees will take any path except the traditional.
Credit: AP Photo/Matt Slocum