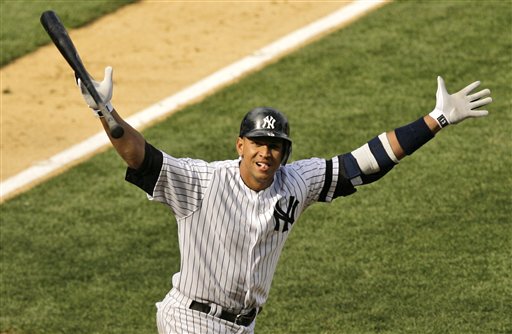 I don't know about you, but when I think of Alex Rodriguez, I think of two things: his enormous talent, and his enormous salary. There's just no way around it. The man signed the two biggest contracts in the history of the sport, more than 25% larger then the third biggest contract. The Yankees will pay Alex $32M in 2010, far and away the largest annual salary in the history of the game. If you're a regular working stiff making $40,000 a year at the nine-to-five, it'll take you about 16 lifetimes to make what A-Rod will pocket this season. It's not fair, but that's life.
We know what the contracts were. Ten years, $252M back in 2001, then another ten year, $275M monster after he opted out of the first deal in 2007. He also signed a Major League contract out of the draft, guaranteeing him more than four times the league minimum during his first three seasons. However, base salary is just one piece of the puzzle. A-Rod's deals have contained incentives for making the All Star Team, various finishes in the MVP voting, Silver Sluggers, all sorts of stuff. In addition to all that, A-Rod will get 3% interest on $45M he agreed to defer just a year into his original deal with Texas, though he forfeited $15M of that when he opted out of his deal.
Well, words can only do so much, so here's a breakdown of A-Rod's annual earnings. Remember to click it for a larger view.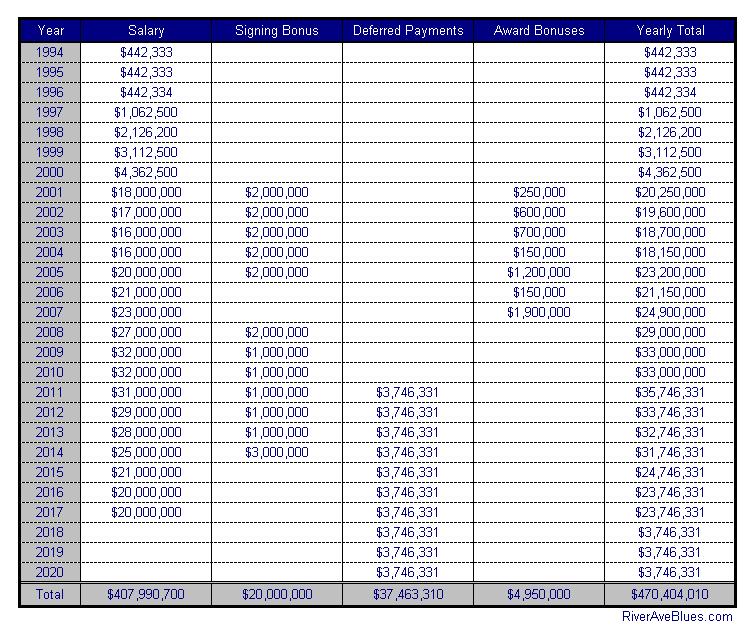 Update: I missed the signing bonus from his most recent contract. That's the correct chart.
First off, none of that would be possible without the greatness of Cot's Baseball Contracts. Second of all, I make no guarantees about it's accuracy, but I'm confident that I'm close.
A-Rod's base salaries from 1994-2000 and 2008-2017 are straight forward. His base salaries from 2001-2007 were reduced by $3-5M per year as part of the deferred payments he agreed to (I assumed the 3% interest was compounded annually). That deferred money will be paid out from 2011-2020. The $10M signing bonus A-rod received as part of his deal with Texas was paid out over five years, and then there's the incentives…
$50,000 for finishing sixth in the 2001 MVP voting
$100,000 each for being selected to the All Star Game from 2001-2007
$100,000 for receiving the most All Star votes in 2007
$100,000 each for Silver Slugger Awards in 2001-2003, 2005, and 2007
$100,000 for being named The Sporting News Player of the Year in 2002
$100,000 each for being named Baseball America's Major League Player of the Year in 2002 and 2007
$200,000 for finishing second in the 2002 MVP voting
$500,000 for being named the 2003 AL MVP
$1,000,000 for being named the 2005 AL MVP
$1,500,000 for being named the 2007 AL MVP
And you know what? That's not even all of them. From 2001-2007, A-Rod would have received $100,000 each time he was named to a postseason All Star Team by the AP, Baseball America, or The Sporting News. I couldn't find that info, but that's potentially $2,100,000 in incentives laying out there. He surely pocketed the majority of that.
So all told, A-Rod has made at least $216,940,700 $219,940,700 in his playing career to date. He's guaranteed another $243,463,310 $250,463, 310 between now and 2020, and then there's the $30M in possible incentives for setting the career homerun record. A-Rod's sitting at 583 career homers right now, and he'll make an additional $6M each when he hits his 660th, 714th, 755th, 762nd, and 763rd homers. If Alex hits 130 homers over the next four years (32.5 per year), he would have a shot at getting the last four homerun incentives all in one season. In that perfect storm scenario, A-Rod's 2014 earnings would be $52,746,331 $55,746,331.
A-Rod is guaranteed to make $470,404,010 during his playing career, and he'll be within shouting distance of clear half-a-billion dollars should he reach those homerun incentives.  And remember, that's just what he's made playing baseball. He also has/had endorsement deals with Nike, Rawlings, Wheaties, the Got Milk campaign, Pepsi and Oasys Mobile. I'm sure those are seven figure payouts, otherwise they wouldn't be worth his time.
Some will call A-Rod greedy, but I'm inclined to say he just used common sense when presented with not one, but two nine-figure contracts. Alex did a tremendous job marketing his talent and maximizing his earning potential, which in the end is what we're all trying to do. Don't hate the player, hate the game.
Photo Credit: Kathy Willens, AP