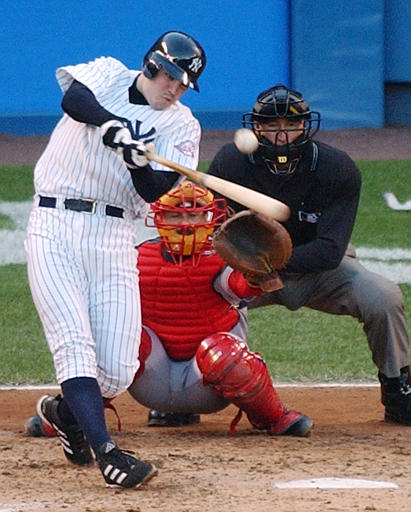 As I was perusing Buster Olney's blog yesterday morning during my daily reading, something caught my eye and piqued my interest. He wrote about Orlando Hudson and how he could be a good fit for Minnesota, where he would likely hit second with Joe Mauer and Justin Morneau backing him up. Long story short, Olney pointed out that Hudson is a good fastball hitter, and he would see more fastballs hitting in front of Mauer and Morneau, therefore it would be a good signing for the Twins.
What caught my attention were the numbers he provided about the percentage of fastballs seen by each team's number two hitter last season. The second spot in the Yankees' lineup saw 69.1% fastballs in 2009, the fourth most in baseball and slightly more than the aforementioned Twinkies. Johnny Damon has always been a good fastball hitter, so it's no surprise that had such a strong offensive season. FanGraph's pitch values say that his bat was worth 0.53 runs above average per 100 fastballs last year, down a tick from 2008 (1.11) but right in line with his 2006 and 2007 performances (both 0.58).
However Johnny is long gone now, replaced in the two hole by new-old Yankee Nick Johnson, who will assume control the cushiest lineup spot in the game: hitting behind Derek Jeter and ahead of Mark Teixeira and Alex Rodriguez. While he may not see seven fastballs out of every ten pitches like that spot did in 2009, chances are he'll see more than the 61.4% fastballs thrown to him last season. And that's good news, because Nick Johnson straight up murders fastballs.
While Damon's bat has been worth just over half-a-run above average against the old number one in three of the last four years, Johnson's hasn't dipped below 1.17 runs above average. I tried to put the difference between Damon and Johnson into words, but I failed in two attempts, so I'm going to cop out and use a table. Check this stuff out…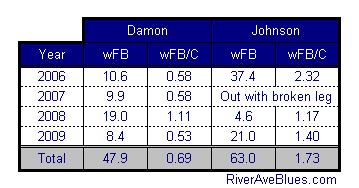 (wFB is runs above average, /C is per 100 pitches)
Even though he missed all of 2007 and most of 2008 with a busted leg, Johnson still generated more runs above average against fastballs than Damon over the last four years. It's not even close either. On a rate basis, he's produced close two runs above average for every 100 fastballs seen, more than double Damon's output. If NJ sees anywhere near the amount of fastballs this year that the Yanks' number two hitter saw last year, holy schnikees is he going to do some damage.
Obviously there's many more factors that go into the number of fastballs a hitter sees, more than I care to account for. Will Jeter get on base more than 40% of the time in front of the number two hitter again next year? What about the nine hitters, will they combine to get on base less than 31% of the time again? Those are the great unknowns, and they'll all affect the number of fastballs thrown Johnson's way in 2010. The important part is that in one of the better fastball spots in the lineup, the Yankees now have a tremendous fastball hitter, one that's far better than Damon ever was.
The massive upgrade in on-base percentage is reason enough to salivate over the idea of Johnson hitting second next year, all of this fastball stuff is just icing on the cake. Johnny Damon did a fantastic job as the Yankees' number two hitter last year, but Nick Johnson could be even better in 2010.
Photo Credit: Bill Kostroun, AP