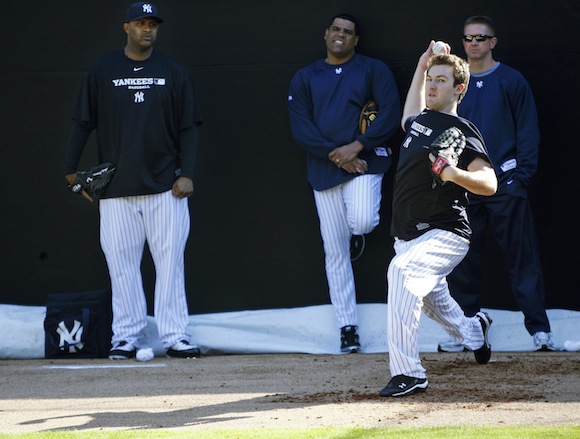 CC Sabathia, Bullpen Coach Mike Harkey and Pitching Coach Dave Eiland watch Phil Hughes throw today in Tampa. (AP Photo/Kathy Willens)
That's a great looking photo up there. The pitchers and catchers officially arrived at Steinbrenner Field in Tampa this morning and got right to work. We love to celebrate the return of baseball, even if it's just for a few hours of bullpen work each day, and over the next few weeks, the team will start to take the field in preparation for Opening Day.
Meanwhile, for number-watchers, today was a big day. The Yanks finally filled in the holes on their active roster, and all of the new guys and some of the old ones have new numbers. With so many non-roster invitees in camp and so many numbers retired, the Yankees have guys wearing everything from 2 to Colin Curtis' 98 in camp.
The most symbolic change this year will be the number on Joe Girardi's back. For the past two seasons, the Yanks' skipper has donned 27 in his quest for the franchise's 27th World Championship. With the trophy secured, Girardi will wear number 28 this year in the hunt for his next trophy. Girardi will be set until the Yanks win their 31st World Series title. Elston Howard's number won't come off the wall.
Meanwhile, some of the late-winter additions not noteworthy enough to warrant a press conference as Number 14 Curtis Granderson did picked out their numbers. Randy Winn has 22 on his back. Most recently, Xavier Nady and LaTroy Hawkins had donned Roger Clemens' old number. Looking to buck with the past, Javier Vazquez has 31, last donned by Michael Dunn. Those 33 Vazquez shirts from 2004 won't come in handy. Another once and current Yankee, Nick Johnson, has opted for 27. He last wore 36 but didn't want to fight Edwar Ramirez for it. Kei Igawa, the not-so-proud former owner of 27, will switch to 17, says Bryan Hoch.
On the minor league front, two dueling outfielders have numbers that should tell you about their chances of making the team. Marcus Thames gets the well-travelled 38 — five former Yankees over the last two years, including Brian Bruney and Ian Kennedy in 2009, have worn it — while Jamie Hoffmann has been saddled with 73. A number that high is usually the Spring Training equivalent of a red shirt on the old Star Trek TV show.
Also of note are a bunch of the Yanks' top prospects. Jesus Montero and Austin Romine will wear 83 and 84 respectively. Zach McAllister and Jeremy Bleich have 80 and 82. The youngest guy in camp, Kyle Higashioka, born in April 1990, will wear 92.
Finally, we have the numbers that are obviously missing from the uniforms this spring. The Yankees have again held back Joe Torre's 6, Paul O'Neill's 21 and Bernie Williams' 51. Johnny Damon's 18 remains on the shelf and so does Hideki Matsui's 55. Of those numbers, the 6 and the 51 should probably be retired while the other three can be returned to circulation.
Anyway, here's your open thread for the evening. Some NBA trades involving the Knicks are going down. NBC's botched Olympics coverage will be on. In local action, the Nets and Knicks both play at home at 7:30. Be good to each other.