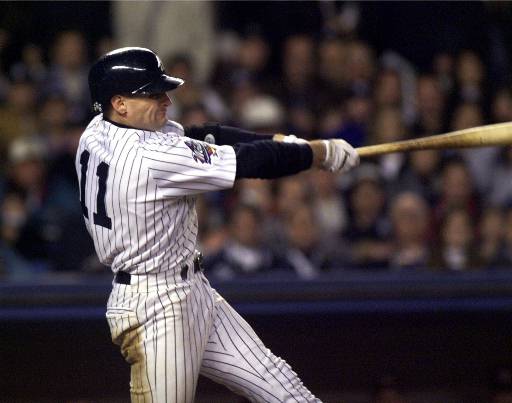 The Yankees figure to be prominent players on the free agent market every offseason, however they threw us a changeup this winter and instead pulled off two major trades while committing no more than one year to any free agent. Curtis Granderson steps into the outfield for the next few seasons, and even though Javy Vazquez is only signed through 2010, it has to be considered a major move just in terms of how valuable he could be. The cost in both trades was the same: three young players with several years of cost control ahead of them.
Twelve years earlier, the Yanks made a similar trade, one that turned a weakness into a strength at the cost of minor league depth. After watching their second basemen hit .282-.331-.362 with just five homers in 1997, the worst production the team received from any position besides catcher, rookie GM Brian Cashman acquired All Star second baseman Chuck Knoblauch from the Twins. Cashman had succeeded Bob Watson as the team's general manager just five days before the trade was completed, so he wasted no time making a big splash.
Of course, Knoblauch was very outspoken about his desire to be traded, forcing GM Terry Ryan's hand. The Twins won just 68 games in 1997 and hadn't made the playoffs in six years, and the 29-year-old didn't want to spend his prime years duking it out for fourth place in the AL Central. So, in early February of 1998, just a few weeks before pitchers and catchers were due to report, the two sides consummated the following deal:
Yankees Received
2B Chuck Knoblauch
Twins Received
LHP Eric Milton
SS Cristian Guzman
OF Brian Buchanan
RHP Danny Mota
Cash (Wikipedia says $3M)
At the time of the trade, none of the four players the Twins received had yet to appear in the majors, while Knoblauch was coming off a four year stretch in which he hit .319-.413-.468 with 188 stolen bases while making four All Star appearances. His 127 OPS+ during those four years was higher than Roberto Alomar's (124). The trade gave the Yanks a veteran lead off hitter, pushing young phenom Derek Jeter down to what would become his customary two-hole.
Milton, the Yanks' first round pick in 1996 and then just 21-years-old, had split 1997 between High-A Tampa and Double-A Norwich, posting a 3.11 ERA with a 162-50 K/BB ratio in 28 starts and 171 innings. Yeah, things were different back then, innings limits weren't exactly a top priority. Minnesota sent him straight to the big leagues in 1998, and he responded by posting a 5.64 ERA with a 107-70 K/BB ratio in 32 starts and 172.1 IP. He would go on to no-hit the Angels the next season, and in the end he became a fixture in the Twins' rotation until 2002, posting a dead even 100 ERA+ in 162 starts and close to 1,000 innings along the way.
Knee issues limited Milton to just three starts in 2003, and with free agency just a year away, Minnesota shipped him to the Phillies for Carlos Silva, Nick Punto, and a player to be named later. As you can imagine, Milton provided the Twins with a great deal of value as a league average innings eater. All told, he was worth 13.2 wins over a replacement player during his time in the land of 10,000 lakes.
Guzman, just 19 at the time, had hit .273-.310-.354 with 23 steals mostly with Low-A Greensboro the year before the trade. He spent his first season in the Twins' organization playing in Double-A, hitting .277-.304-.352 with another 23 steals. Minnesota jumped him to the big leagues in 1999, though he struggled greatly and hit just .226-.267-.276 with nine steals. Guzman improved a bit the next year, and in the long run he hit .266-.303-.382 with 102 steals in six years with the Twins. He thrice led the league in triples, and even appeared in an All-Star game. The lure of a free agent payday (four years, $16.8M from the Nationals) spelled the end of Guzman's time with Minnesota, though he gave the team 3.9 wins over replacement total.
Buchanan, another former first round pick by the Yanks (1994), had developed into a minor league slugger with good but not great numbers. He toiled away in Triple-A for a few years after the trade, seeing big league action in parts of three seasons for the Twins before being traded to the Padres during the 2002 season for a light hitting A-ball shortstop by the name of Jason Bartlett. Buchanan hit .258-.319-.428 in 455 plate appearances for Minnesota, providing just one-tenth of a win above a replacement player.
Mota, a 21-year-old righty that had spent parts of three seasons in the Short Season NY-Penn League prior to the trade, steadily climbed the ladder and ultimately contributed just 5.1 IP of 8.44 ERA ball to the big league team. He was out of affiliated baseball by 2002, contributing a whopping one-tenth of a win below replacement level to the Twins cause.
As for Knoblauch, he parked himself atop the Yanks' batting order for four seasons, though he never quite produced at the levels he had in Minnesota. He hit .265-.361-.405 with 31 steals and a then-career high 17 homers in 1998, however he was perhaps best remembered for the "Blauch-head" play against the Indians in the ALCS, when he stood around arguing with an umpire rather than picking up a ball in play, allowing Cleveland to take the lead in extra innings. Knoblauch went on to hit a game-tying three-run homer in Game One of the World Series, helping the Yanks to a sweep of the Padres and a World Championship.
With a season in pinstripes under his belt, Knoblauch rebounded to hit .292-.393-.454 with 28 steals and a career high 18 homers in 1999, helping the Yanks to another World Title thanks to a .283-.353-.391 postseason performance. However, he began having issues with this throwing, leading to a career high 23 errors. Knoblauch missed time with injury in 2000, and his throwing problems became so severe that he spent significant time as a designated hitter. Nevertheless, he hit .283-.366-.385 as the Yankees captured their third straight World Championship.
Knoblauch, unable to overcome his issues throwing to first base, moved to left field permanently in 2001, and he hit just .250-.339-.351, the worst offensive showing of his career to that point. In the four years since he was acquired, Knoblauch went from an elite hitter at a premium position to a below average hitter in a corner outfield spot. The Yankees let him walk as a free agent after the season, and Knoblauch was out of baseball by 2003. During his four seasons in pinstripes, Knoblauch contributed just 6.6 wins above a replacement level player to the Yankees cause.
Let's round up the WAR data in a nice, easy to read table.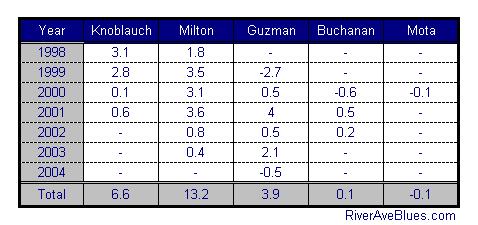 The Twins quartet provided their team with a combined 17.1 wins above replacement, mostly thanks to Milton obviously. That doesn't include the contributions they got from Silva, Punto, and Bartlett, but we can't count that against the Yanks here because Minnesota might have made those trades anyway, just with different players.
While the Twins got the better end of the on-the-field production here – and there's no denying that – the Yankees did win four pennants and three World Series with Knoblauch in the lineup every day. Unlike say the Brewers and CC Sabathia, the Yanks didn't forfeit a significant part of the future for just one playoff appearance here.
In the end, this trade was a classic win-win. The Twins got exactly what they were looking for, two legitimate big leaguers and a little extra, while the Yankees got what they wanted in the form of championships. Minnesota's reward is easily measured in WAR, but Knoblauch was a part of a dynasty in New York, and it's impossible to put a number on that. Hindsight is 20-20, and I'd bet that both sides would do this deal again 100 times out of 100.
Photo Credit: Doug Mills