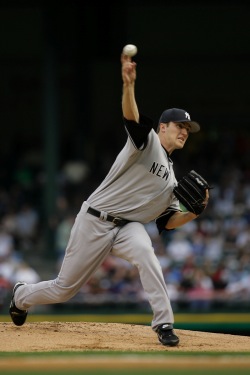 If there were an official Yankees pitcher of RAB, it would be Phil Hughes. Sure, Joba claims most of the attention, but back when we were just a fledgling site our big obsession was Hughes. We all followed him through the minors, and knew that in the year we launched, 2007, he would make his major league debut. Because the Yankees pitching staff was a shambles early in the year, Hughes got the call in late April, and wasted little time in dazzling us. Unfortunately, he wasted equally little time in ripping out our hearts.
For Hughes it was a long road to redemption. An ankle injury while performing calisthenics kept him on the DL for longer than initially anticipated, and we'd have to wait until his final start of the season for him to again dazzle us. It did help, though, that he looked like an ace in relief of the injured Roger Clemens during that year's postseason. That was enough to win Hughes a spot in the rotation for 2008, though it was apparent early on that he hadn't quite earned it, but rather benefited from a scarcity of reliable arms. Again we had to wait until Hughes's final start to see a glimmer of hope.
We know from the start that 2009 would be different. Brian Cashman stocked the rotation, adding CC Sabathia and A.J. Burnett to go along with incumbents Chien-Ming Wang, Andy Pettitte, and Joba Chamberlain. With the five rotation spots filled from the start, Hughes started the season in AAA, knowing he'd get the call in case of emergency. That happened early, and Hughes got off to a great start, pitching six shutout innings in Detroit, fanning six and and allowing just four baserunners. From there he went from bad to mediocre, interspersing it with easily his best start of the year, an eight-inning shutout in his return to Texas, where he had strained his hamstring just over two years prior.
From there he hit the bullpen, where, after a short adjustment period, he appeared a natural fit. His fastball blazed, so much so that he often threw it more than 80 percent of the time, mixing in the occasional cutter and curveball. The change in his fastball, however, included more than just velocity. It always does.
Most of the information we need to examine Hughes resides on his FanGraphs player page. Here we can see not only the average velocity and movement of his pitches, but we can also see, in graphical form, how they changed over the course of the season. Since Hughes switched to the bullpen mid-year, perhaps that will give us some insight into exactly what changed. First up, velocity chart:
Understandably, his velocity jumped at one point, not coincidentally around the time he joined the bullpen. Take a look at the plots prior to the rise, though. There's one noticeable dip, Hughes's sixth start of the season. That dot, believe it or not, represents his game in Texas. His fastball averaged just under 91 mph and maxed out just under 93. The difference that game, it appears, is that he threw it less frequently than in other starts. So maybe velocity isn't the key at all.
Another trend that stands out is towards the end. It appears his fastball velocity consistently declines towards the end of the season. He seems to have recovered the fastball for the playoffs, though it wasn't all that effective. But, as I said a few paragraphs above, a fastball is about more than just velocity. Vertical movement plays a part, too. Allow me a second to explain, though I'll do so in more detail when we cover Pitch F/X in The stats we use. Feel free to skip the next paragraph if you're familiar with Pitch F/X numbers.
Pitch F/X measures movement by comparing an actual pitch to one with no spin. A pitch with no spin would drop more quickly than a pitch with backspin, so vertical movement on fastballs is expressed as a positive number. In 2009 the average fastball "rose" 8.6 inches over the same pitch if it didn't have any spin. Higher vertical breaks can mean a fastball is tougher to hit. David Robertson, for example, had a vertical break of 11.2 inches on his fastball, which is phenomenal.
Now, onto Hughes's vertical movement chart.
For most of the season, Hughes's vertical movement sat around that 10 inch mark. True to that, his average fastball vertical movement was 10.1 inches. But as his velocity dropped towards the end of the season, so did his fastball vertical movement increase. In that final game against the Rays, when his fastball averaged just under 93 mph, his vertical break was just under 11 inches. In his second playoff appearances, the one where he allowed two runs against the Twins, his fastball was back up to 94, but his vertical break was all the way down at 8.75 inches. Thankfully, it was back up over 10 for most of the playoffs.
We know that when Hughes eventually returns to the rotation that he won't throw an average 94 mph fastball. We also know that he doesn't need that type of velocity to succeed. Not only does he have that "sneaky" fastball — though, just so you think I'm not working on an agenda here, his vertical movement was at times sub-par, including in the Texas game, earlier in the year — but he also generates excellent movement on his curveball. The average curveball in 2009 moved 5.3 inches horizontally (away from a righty) and -5.2 inches vertically. Hughes's curveball averaged 7.4 inches horizontally and -7.6 inches vertically. His cutter also had good horizontal movement. 0.2 inches (into a lefty) vs. a league average of -0.5, and while his vertical movement was below league average, you can see in the above chart that it did trend upward toward the end, along with the velocity (perhaps explaining the 4-seamer's decreased velocity).
As I said in the Robertson post, it's difficult to draw sweeping conclusions from this data. I'd like to think that it signals Hughes can succeed back in the rotation, even without that 94 mph fastball. He has good movement on it, and combined with a quality curveball and a developing cutter, he might be able to pitch six, seven, eight innings every five days. If not, we've seen his success in the pen, and that's a pretty solid fallback option.
Photo Credit: AP Photo/Matt Slocum. Graphs credit: FanGraphs.com
---
Just for a trip down memory lane, here's Hughes's no-hit bid in Texas in 2007. Fastball vertical? Check. Curveball vertical? Check-plus — 7.47 horizontal and -9.76 vertical against league averages of 5.4 and -4.4. Ah, what could have been. Maybe we'll finally realize it this season.