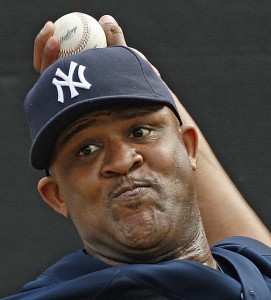 When the Yankees and CC Sabathia came to terms on a contract last winter, the deal was generally reported to be for seven years and worth $161 million. In one sense, that's true because it's the total amount the deal could be worth, but in another sense, we should consider the deal Sabathia signed to be for three years at $69 million with a four-year, $92-million player option. That opt-out clause must loom large.
As the Yankees and CC discussed the deal last winter, the opt-out clause was seemingly marginalized. The Yanks put in the deal, in the words of Buster Olney, "just in case" the Sabathia family didn't like living in the New York area. That phrase seemingly indicates that, if Sabathia is happy, he won't exercise that opt-out option. I don't think we should believe that.
Over the last few years, opt-out clauses have come into vogue in baseball. A-Rod earned himself one in 2000 that he triggered in 2007. He walked away with a better deal that guaranteed him a contract until he turns 42. A.J. Burnett had the chance to opt out of his five-year, $55-million deal following the 2008 season. He did so and signed another five-year deal worth $82 million with the Yanks. Similarly, J.D. Drew opted out of his five-year, $55-million deal following the 2006 season and landed another five-year deal worth $70 million. Aramis Ramirez did the same in 2006 and can do so again following the 2010 season.
In a way, the Ramirez opt-out is an important one for the Yankees. He'll be playing his age 32 season this year, and the market isn't nearly as robust as it was when he signed his current five-year, $75-million deal. If he doesn't opt out, he'll become the first high-profile player not to exercise that option. Yet, on the other hand, his deal isn't comparable to Sabathia's. He'll be leaving only one guaranteed year on the table and a club option. CC will be just 30 and will have four guaranteed years on the table when the 2011 season wraps up.
The Yankees have to be moving ahead with the idea that Sabathia will opt out. They are basically three scenarios. In one, he gets injured or unpredictably declines such that four years and $92 million are his earnings ceiling for those four years. In another, he uses the threat of an opt out to secure more money from the Yanks. In a third, the economy will be so bad that a lefty ace coming off his 30-year-old season can't find more than $23 million and four years. The last is a possible but unlikely scenario.
So the Bombers will pay careful attention next year to the free agent pitchers. Josh Beckett will hit the market, and Cliff Lee will be available. Brandon Webb too will be out there for the taking, and the Yanks will have to move on a pitcher with an eye toward this opt out and beyond.
I hope Sabathia stays in New York. I hope he continues to lead the team deep into October, and I hope the winning is an antidote to the option to leave. But I know that money will play a big role in his decision, and the Yanks knew that last year. It might be a little too early to know what Sabathia is thinking, but Brian Cashman and the Yanks will have to plan for that worst-case scenario as much as we don't want to consider it.
Photo Credit: AP Photo/Kathy Willens